NEW AGRICULTURE BRANCH FOR HEREFORD
01 Jan 2019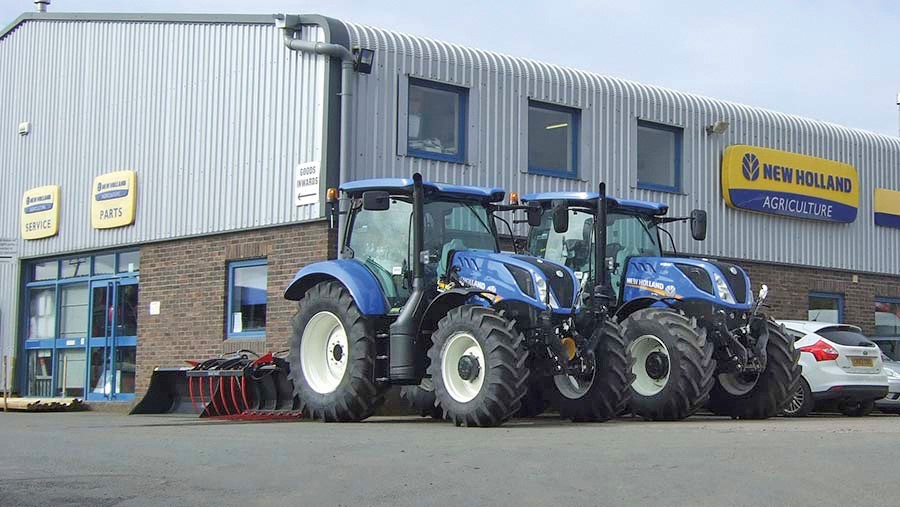 A new T H WHITE Agriculture branch is open in Hereford following acquisition of part of the JG Plant Ltd business.
New Holland dealer JG Plant entered administration on 12 December 2018. The company had depots in Hereford and Bridgend and T H WHITE acted swiftly to acquire some elements of the Hereford operation to ensure continuity and a seamless transition for customers. All 16 staff at Hereford – including general manager James Ashworth – have transferred to T H WHITE, meaning that customers will continue to deal with people they know.
To underpin the deal T H WHITE has taken over the New Holland agricultural machinery franchise for Hereford, a move which is fully supported by New Holland's Business Director for UK & Ireland Pat Smith: "T H WHITE is one of our longest-standing dealers and it's great to see them growing in this way," he said. "Their long history and experience with the brand will bring new stability and confidence to the Hereford operation."
T H WHITE managing director Alex Scott commented: "Adding Hereford to our already strong agricultural sales region brings a great opportunity. We are delighted to welcome the new staff and we will be working hard to deliver an enhanced experience for customers."
The new branch is located at The Beech Business Park, Tillington Rd, Hereford HR4 9QJ, Tel: 01432 352333.
ARE YOU READY FOR GRASS HARVEST?
01 Jan 2019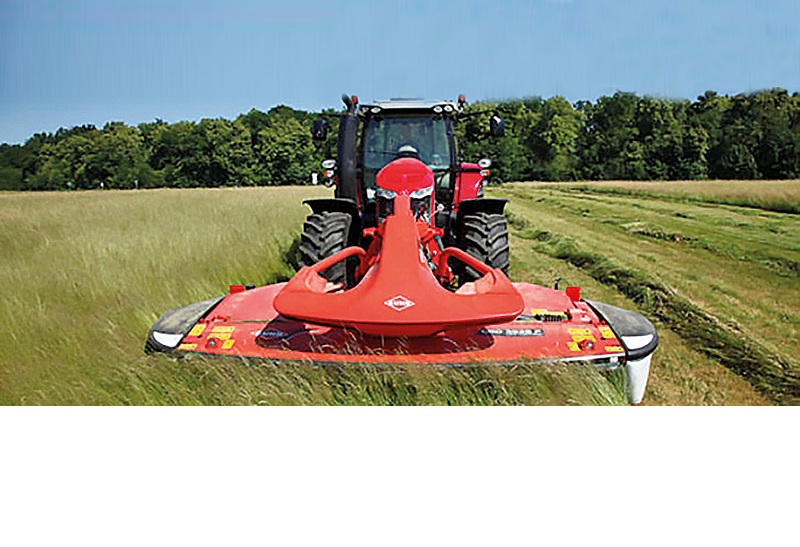 Before we know it the grass cutting season will be here and if you are thinking of preparing with new machinery, delivery lead times mean that now is the moment to be placing an order.
At the top end of the scale you may be thinking about a forage harvester and the New Holland FR Forage Cruiser has huge capacity in terms of tonnes per hour, also using 21 per cent less fuel than the previous model. It's an impressive piece of kit and ready for you to try at T H WHITE. If you are looking for tractor-mounted mowers we have a superb package from market-leaders Kuhn. Used together the Kuhn FC312 rear and FC3125 front mowers create a push-pull unit with 6.25m width of cutting width – contact your agricultural rep for a very competitive price!
We also offer Kuhn tedders and rakes including the amazing MergeMax belt merger – truly the future of grass raking.
THE CASE IH HIRE FLEET IS LANDING
01 Jan 2019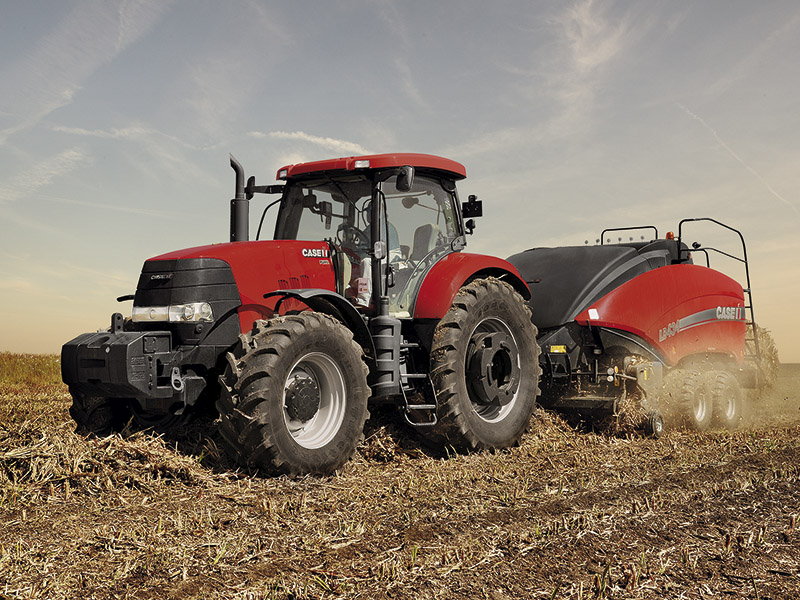 Many farmers have found that hiring equipment for the season is a cost-effective way of ensuring capability and reliability while always benefiting from the latest kit.
This year T H WHITE Pro Agri will be operating a Case IH tractor hire fleet with machines for amenity applications, grass and hay work as well as demanding arable and silage tasks. It is expected that the new Hire fleet will land at T H WHITE in late February, but based on the experience of previous years demand will be high, so please do contact us now to stake your claim and be sure of getting the kit you want in 2019!
We can accommodate short or long-term hire, so whether you are planning to hire for a week, a month, or even a year, we can put together the right contract. And if you are looking for multiple machines or even a small fleet, we will pull out the stops to make sure you have exactly what you need – just let us know as soon as possible.
The tractors on offer include:
• Farmall 95C HiLo
• Farmall 95C HiLo Loader ready
• Puma 150 MC
• Puma 200 CVX
• Puma 200 CVX
All our Case IH hire contracts are backed by Service Support from our team of qualified engineers.
You can register your interest with T H WHITE Pro Agri now on 01264 811260 (Stockbridge), or 01373 465941 (Frome).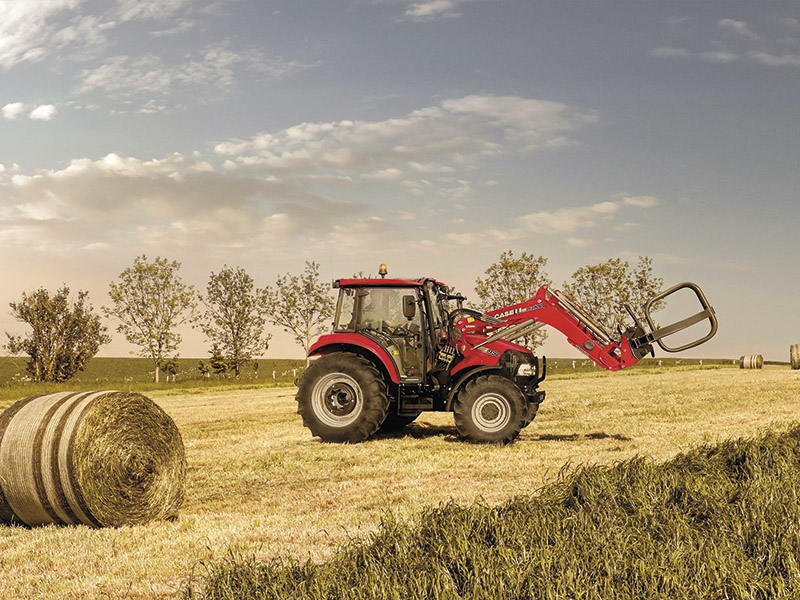 EFFICIENT WORK, GREATER PROFIT FOR THE NEW SEASON
01 Jan 2019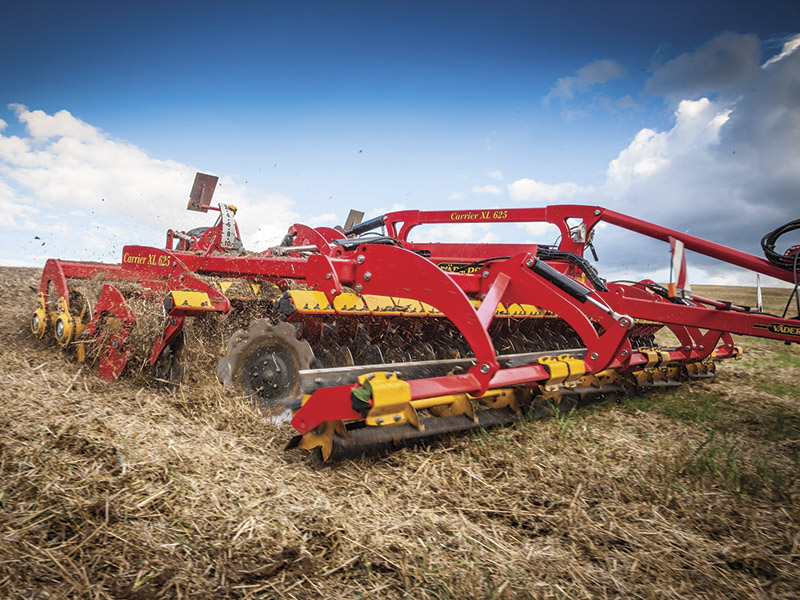 As the new season gets under way, the importance of soil cultivation, fertilisation and seeding becomes paramount. T H WHITE Agriculture is an official dealer for leading brands that can help arable farmers maximise efficiency and profitability in these key areas.
CULTIVATION
Väderstad's Top Down cultivators are available in widths from 3m to 9m, defined by the model numbers 300-900. Designed to perform both a full-scale shallow cultivation and a deep cultivation in a single pass, the Top Down models truly are multi-purpose cultivators. 12.5cm-spaced discs on individually suspended disc arms create fine tilth by cutting and mixing the top soil. The 27cm spaced tines then loosen and mix the soil and crop residues down to 30cm working depth. In the final two working zones, the leveller and packer then concludes by ensuring an even and fully reconsolidated surface. You benefit from preserved soil moisture, low soil compaction and high capacity.
The most popular models are the Top Down 400 and 500, but the whole range can be adjusted for varying soil conditions, the driver being able to adjust the intensity of the hydraulic levellers with millimetre-precision on the move.
Also from Väderstad comes the Carrier range of disc cultivators for high speed primary tillage and seedbed preparation. The wide range of front tools, discs and packers enables Carrier to handle the challenges from ultra-shallow cultivation to a deeper incorporation. Depending on the discs fitted, the Carrier can be used for ultra-shallow tillage at 2-3cm depth, right up to 16cm working depth. The versatility it brings saves passes, decreases machine cost per hectare, and provides the best start possible for the coming crop.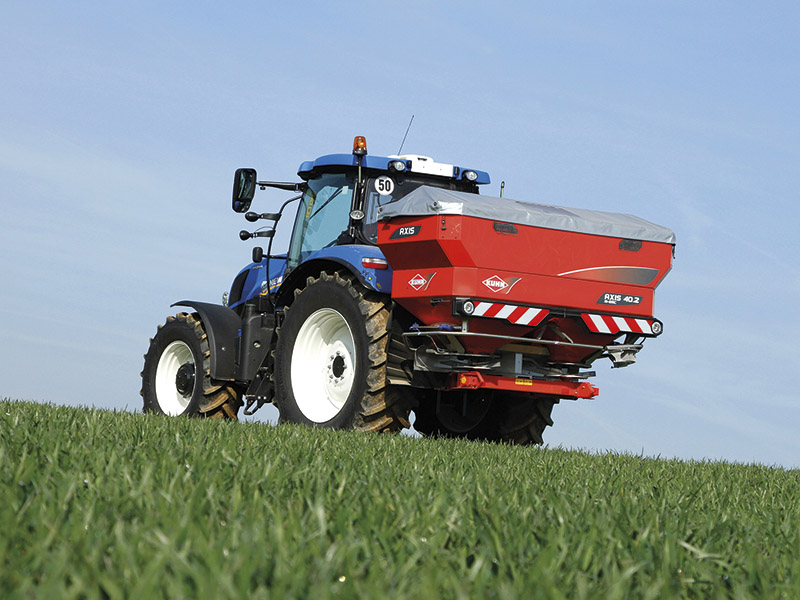 Kuhn also supports our tillage line-up with a wide range of mounted and semi-mounted reversible ploughs, all practical, robust implements designed for long life as well as safe and easy use.
If you are looking for a wide roller, the King roller from He-Va would be difficult to beat. With working widths of 12.3m, 15.3m, 16.3m, 18.3m or 20.3m, the King roller also features supreme contour-following to ensure consistent, high quality results across the field. To give some idea of efficiency a 15.3m set of Rolls travelling at 6km/hr with a driver driving at 90 per cent field efficiency, will cover 8.25ha or 21 acres per hour.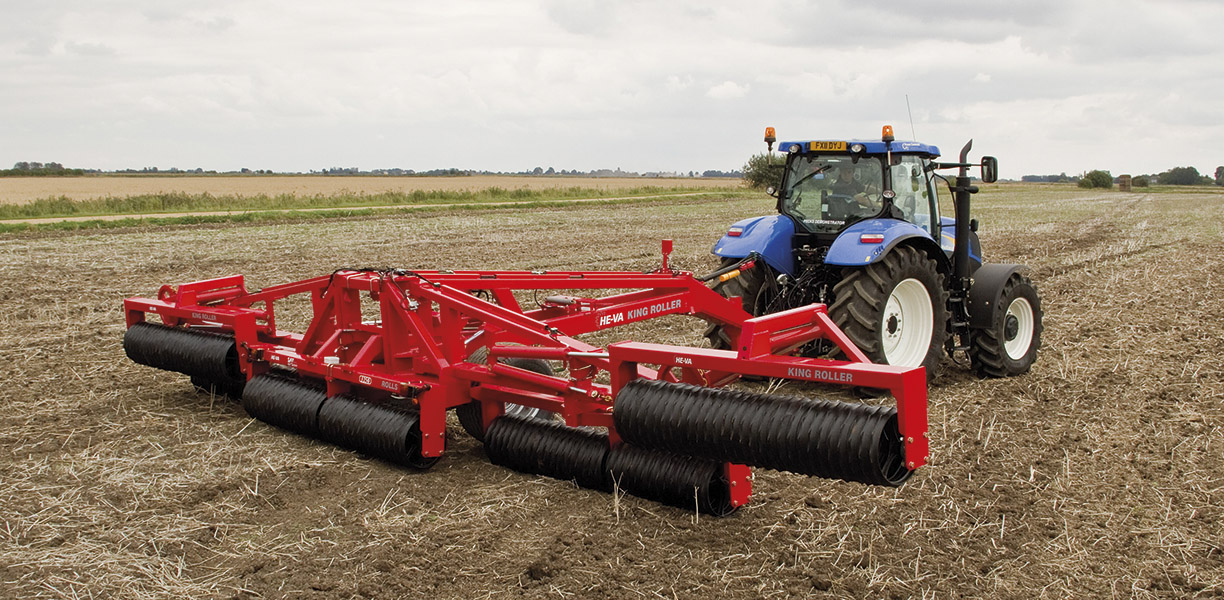 When it comes to a minimal tillage regime there is a comprehensive range of solutions available from Pöttinger. Synkro tine cultivators, with a working width of 4-6m, are famed for their ability to cultivate at a consistent depth whilst ensuring all soil is moved and root structures cut clean through. These versatile cultivators can operate down to a depth of 30 cm and can be configured to suit the seasonal conditions and the job at hand. You can check this out for yourself as T H WHITE will be operating a demo Synkro 4030T Nova this season.
For shallower high speed cultivation the rugged Terradisc range of compact disc harrows is available. Featuring working speeds up to 18kph and patented Twinarm technology, these innovative disc harrows incorporate large 580mm diameter discs with excellent clearance for working large amounts of chopped straw and stubble. Reliable, even with high levels of straw and mulch, the Terradisc is able to incorporate harvest residues without blockage. Unrivalled mixing, combined with a level finish, ensures the best conditions for subsequent operations. Models range from 3m to 10m and we are operating a demo Terradisc 6001T.
FERTILISATION
Fertilisation now accounts for a major portion of costs on all arable farms, and thus has a considerable influence on profitability. Accurate application is the key to success and Kuhn – long-time market leader in spinner fertilisation – pioneered hydraulically-driven machines with its EMC (Electronic Mass Flow) which can now be PTO-driven. The Kuhn Axis models feature an enormous working range from 12m to 50m and a capacity of 1,000 to 4,000 litres, with the mid-range 30m to 40m implements being the most popular. Advanced technology means that the fertiliser dose on each spreading disc is regulated second-by-second according to the torque detected on each disc. The EMC detects and corrects flow variations instantly, effecting the greatest economy and eliminating the risk of clogging. Even distribution is exceptional thanks to the CDA system common to all AXIS fertiliser spreaders.
The many hi-tech aspects and precise delivery offered by Kuhn spreaders mean that thousands of pounds worth of savings can be achieved when treating large acreages.
Another economic route to effective fertilisation is offered by Hardi sprayers. The line-up includes trailed and mounted versions with fixed or folding booms in widths from 12m to 42m and a variety of capacities up to 4,000 litres.
SEED DRILLING


Speed is important when seeding large acreages and the Rapid seed drill from Väderstad carries out seedbed preparation, levelling, drilling and re-consolidation in one pass. At the heart of the Rapid is an ingenious depth control system, adjustable from the cab. The system uses each packer wheel to control the drilling depth of two seed coulters, while at the same time applying re-consolidation. Thanks to this, Rapid is able to create an even emergence in all conditions.
The single disc seed coulters penetrate the soil with a very high coulter pressure upwards of 150kg, resulting in an exact seed depth even at high working speed. The Rapid places the seed at a greater depth than the working depth of the cultivating front tools, providing important seed-to-soil contact and ensuring that the seed is surrounded by undisturbed soil, providing all-round water absorption. Behind the seed coulters, the large packer wheels effectively close the seed slots, creating optimised seed-to-soil contact in all conditions.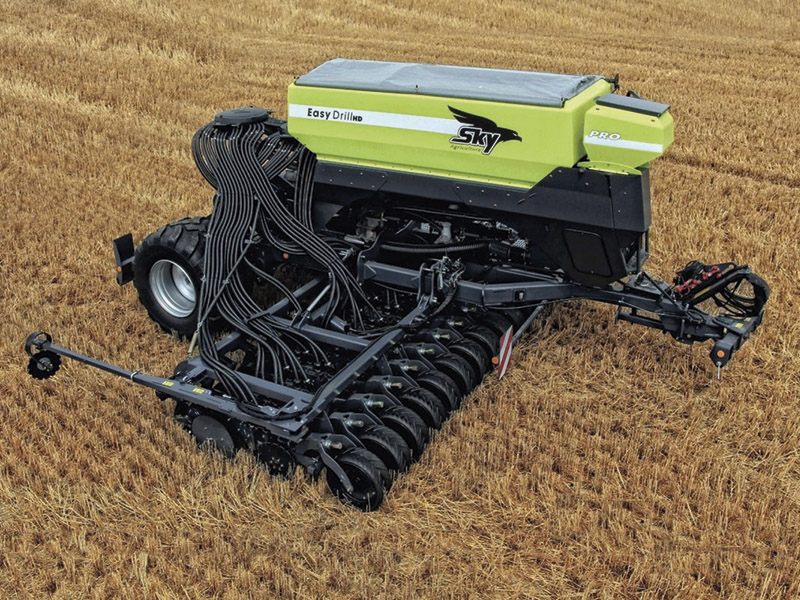 The Sky EasyDrill is the result of 39 years of product development and is one of very few direct drills that can truly be regarded as a direct drill, a mintill, a grassland and a cover crop drill. It's low disturbance disc coulter and press wheel not only ensure minimal weed seed germination, they also keep the horsepower requirement to a minimum. For example, a 3m EasyDrill typically needs only 90hp to pull – considerably less than many other implements – which reduces fuel consumption, tractor weight and therefore damage to the soil structure when drilling in damp conditions.
Seed drill technology is also a key part of the business at Pöttinger, ranging from the simple mechanical Vitasem models, to the technologically-advanced Aerosem mounted pneumatic range and the range topping Terrasem – available in working widths up to 9m. Full variable rate control is a standard feature across the Pöttinger drill range.
Terrasem models can be specified with conventional cultivating discs or the all-new Wavedisc low disturbance system and a choice of row spacings at 12.5 and 16.7cm. Models can also be specified with a fertiliser option which allows simultaneous exact placement of fertiliser in rows adjacent to the seed.
You can find out more about all the machinery listed here by contacting any T H WHITE Agriculture branch – we would also be very pleased to arrange demonstrations so you can be sure you are choosing the right equipment.
Väderstad is currently offering a subsidised finance deal 1+ 1@0% (one payment, and balance one year later at zero percent interest) – don't delay!
A PIONEER IN ESTATE MANAGEMENT
01 Jan 2019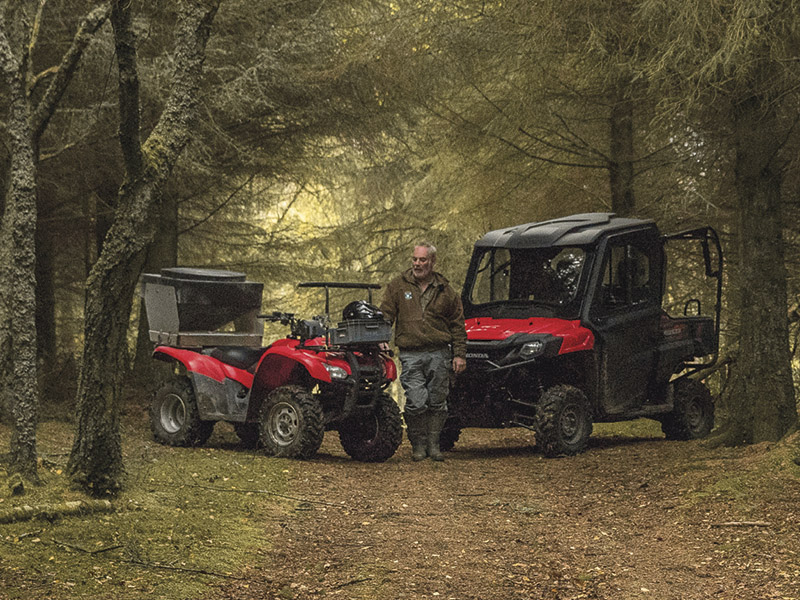 The task of maintaining an estate, as well as transporting people and loads across rough country is made much easier by a tough, reliable UTV. That's particularly true now that the shooting season is well under way and UTVs don't come with better credentials than the Honda Pioneer.
In many ways the Pioneer, available in two or four-seater models, was the obvious choice for Alex Hogg, gamekeeper on a 7,000-acre estate in Peebleshire. The land he manages ranges in altitude from 800ft to 2,200ft, well up into the snowline. The estate has walked-up grouse, driven pheasant plus fallow and roe stalking.
"We already had a Honda ATV, so it was a natural decision to go for a Pioneer when it came to a utility vehicle," said Alex. "I have to admit that I was apprehensive at first as to whether a utility vehicle would be as nimble as the ATV, but I need not have worried. It's well-geared for the hills and just as grippy as a bike, if not more so. I hardly ever use diff lock, even on our hills."
What really sealed the decision for Alex was the question of reliability. "Hondas are just second to none when it comes to starting first time, whatever the weather."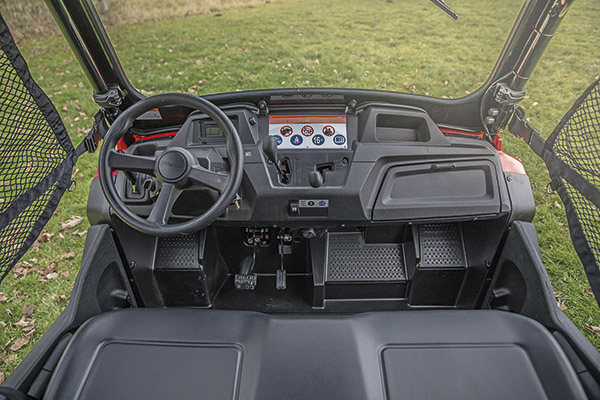 He did add on a full cab as well as a heater, which he says is a blessing for keeping warm and demisting the windscreen and the all-important binoculars when out stalking. He also opted for a load carrier in the back. "We often use it to clear up fallen trees, often packing it full of wood and tools. It's great to be able to take the load liner out and still have clean seats."
Alex has also found the Pioneer to be economical. "It hardly uses more than an ATV, so it doesn't burn as much fuel as you'd think."
One of the main advantages of running a vehicle such as the Pioneer is how light the vehicle's footprint is. "It hardly leaves a mark, yet it has the room to carry folk and plenty more."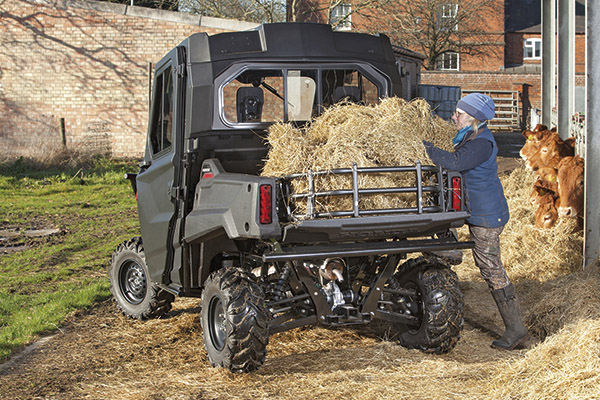 The Pioneer is used every day on the estate, to fill feed hoppers, take stalkers out on the mountain or to ferry guns around on shoot days. "We have the four-seater model, which is just great for taking up to three guns out to their pegs easily and quickly, especially those who are a bit older."
The ATV is still used to spin out grub for the birds, but most other tasks are now done with the Pioneer.
It's easy to see from Alex's experiences on a particularly challenging estate just what a boon the Honda Pioneer could be on land in Wiltshire, Somerset, Gloucestershire or Berkshire! And the really good news is that the Pioneer is available now from T H WHITE with 0% finance. What's more, if you buy a Pioneer before 29 March you can also get a genuine Honda half cab for just £999+vat – PLUS a TraKKing device fitted as standard to all new Pioneers with a free-to-download app.
Want to know more or try out a Pioneer? Just contact our ATV/UTV specialists Tim Rochfort (07973 911934), or Simon Knight (07860 912763).
MANITOU MLA-T IS THE NEW FORCE
01 Dec 2018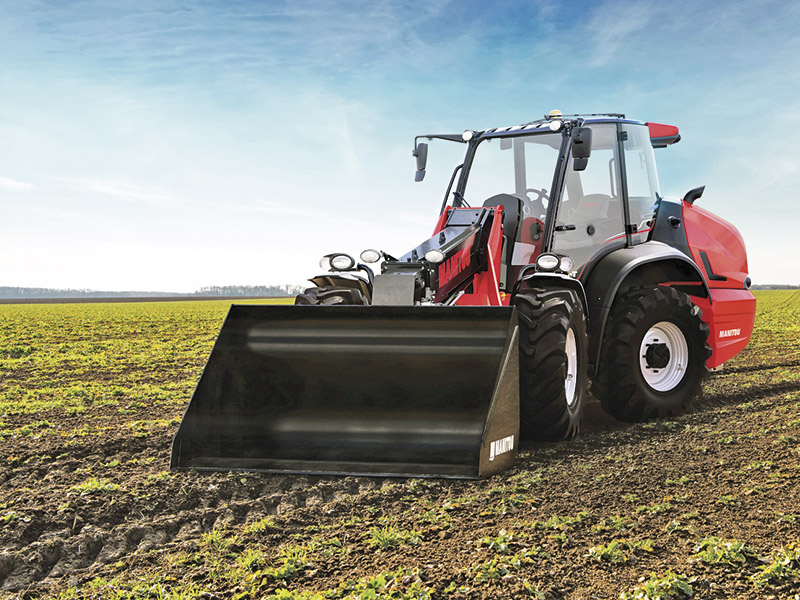 Manitou's new pivot-steer telehandler, the MLA-T, combines bags of sheer tear-out force with exceptional levels of comfort and durability, and is available now from T H WHITE Agriculture and Construction.
Designed in-house from the ground-up, the MLA-T features a tighter turning circle than competing machines and, unlike many pivot-steer handlers, it shuns standard torque converter transmission for Manitou's own hydrostatic M-Vario Plus transmission, which is more commonly found on higher-spec, rigid-frame machines.
Powered by a Deutz 4.1-litre, 143hp diesel engine, the MLA-T has plenty of 'grunt' for all the construction and agricultural tasks that it will be required to perform. On the road it can be driven at up to 40kph, but a number of advanced technologies are built-in to deliver maximum power at slow speeds with the engine driving two separate axial piston motors, one of which is automatically disengaged above 20kph to reduce oil displacement, assist cooling and reduce fuel consumption.
An eco-mode can also result in a fuel cost saving of around £440 over 1,000 hours when full power isn't needed.
Built for hard work in harsh environments, the MLA-T features a heavy chassis with widely spaced top and bottom pins to mitigate stress on the pivot joint and the prop shaft runs inside the chassis for maximum protection.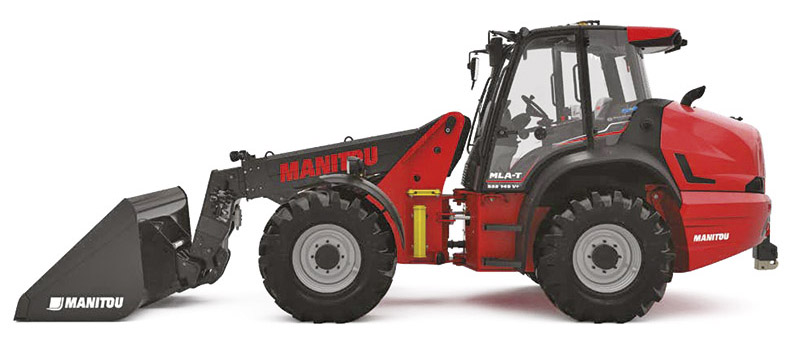 Matching equivalent rigid machines, the MLA-T can lift 3.3t at full articulation and up to 5t for a straight tipping load, while optional 'intelligent' hydraulics offer three most useful automated functions – Quick Lift which combines raising/lowering with extension/retraction; Bucket Shaker saves the operator from making repetitive movements; and Return to Load to automatically return to a pre-set position.
Completing the package is a comfortable working environment and brand new cab design with easy control via a JSM joystick and a digital display dash. Maintenance is easy thanks to a central greasing block.
We think you'll love the MLT-A, particularly for livestock farming and construction applications, but you don't need to take our word for it. If you would like to see and try the machine for yourself, please contact your T H WHITE Agriculture or Construction representative.
TRUE GRIT FOR WINTER
01 Dec 2018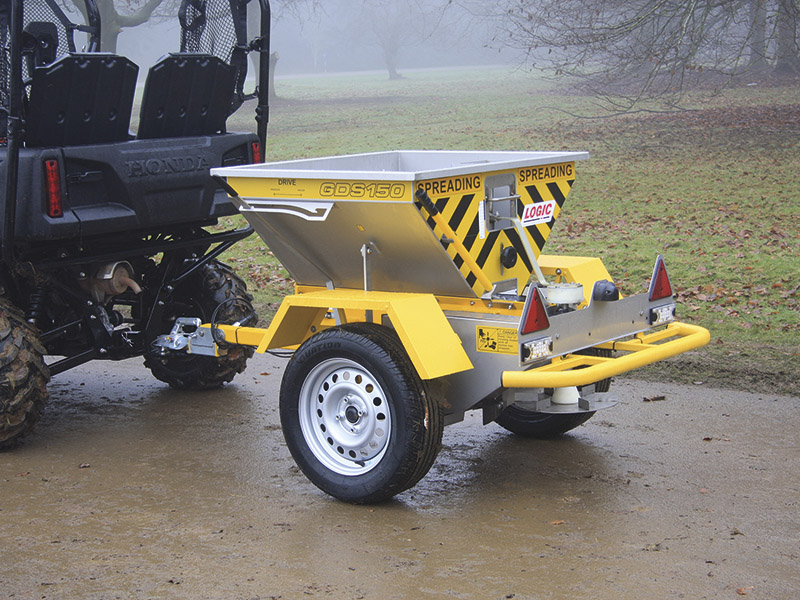 As colder weather approaches be ready with our professional, stainless steel LOGIC road/rock salt gritters.
Choose either towed or deck mounted configurations, from a variety of models such as the wheel-driven 270ltr GDS 150, suitable for towing behind an ATV, compact tractor or UTV.
The GDS Salt Spreader uses a moving-floor conveyor system similar to highway-sized salt spreaders to deliver the salt to the spinning disc system. The hopper will hold 270 litres (approx. 335kg) of road/rock salt and is capable of spreading all types of material, including wet rock salt, grit and sand. A unique agitation system and conveyor floor ensures wet or dry material can be spread effectively and accurately by a spinning disc. Working speeds of up to 15mph and road speeds between sites of up to 30mph mean wide areas can be covered quickly and efficiently. Road and non-road versions are available with prices starting from £5,930 plus vat.
The deck-mounted PDS150D, (suitable for applicable UTVs) is powered by a Honda engine and is ideal for roads, pathways, city centres, cycle routes, car parks etc. At a spreading rate of 10g/m2, on a road 3m wide, 11km can be covered with one load. Prices start from £6,795 plus vat.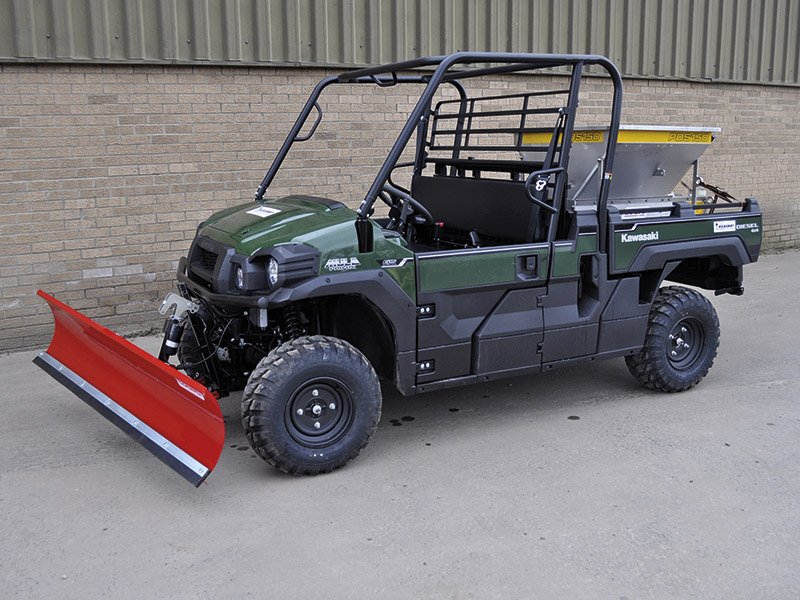 Additional models are also available – forklift-mounted or to fit to a tractor 3-point linkage.
For all the details please contact T H WHITE Agriculture or Groundcare: Tim Rochfort on 07973 911934; Simon Knight on 07860 912763; or Stuart Fry on 07774 212926.
DRIED TO PERFECTION
01 Dec 2018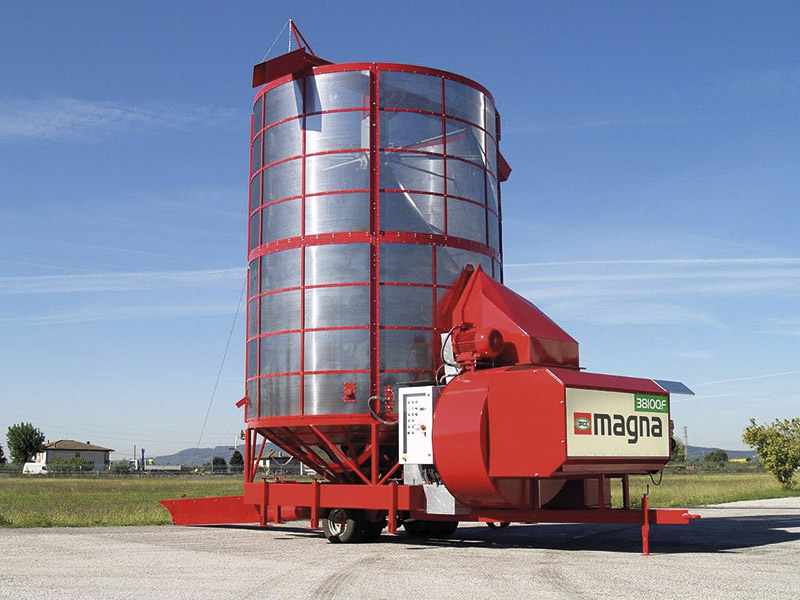 With so much climate uncertainty many grain farmers are realising the benefits of investing in reliable, high throughput grain dryers. Now is the time to think about being fully equipped for the next harvest to avoid being caught out by wet weather.
Opico's portable Magna Diesel Grain Dryers can dry up to 480 tons per day automatically, with minimal supervision. They are easy to install and relocate as required, eliminating the need for large expenditure on handling equipment.
Fuelled by diesel with 3 phase or PTO drive OPICO dryers recirculate the grain constantly to dry thoroughly and evenly whilst improving hectolitre weights and augmenting quality.
Opico's unique Duax Heat Core works in a similar way to a storage heater, using heat-retaining bricks to build up and retain heat as the burner switches from high to low flame. This clever system ensures an accurate and constant heat and makes the Magna one of the cleanest and most efficient diesel dryers on the market.
Holding and drying capacities range from 5t to 20t per hour and, with forced drying and cooling, you always remain in complete control and are able to specify temperature and moisture content.
Not only can Opico Magna dryers handle and dry the very wettest of grain, but the grain cleaner removes weed seeds and broken grains improving hectolitre weight, while the augers polish the grain, improving the sample. The whole process ensures maximum, high quality output.
To beat the delivery lead times on drying equipment it's worth thinking about placing an order now to give peace of mind that you will be fully prepared for 2019. To discuss the options and help determine which Opico dryer is best for your farm, contact any of our agricultural branches.
CULTIVATING PHOTO TALENT
01 Dec 2018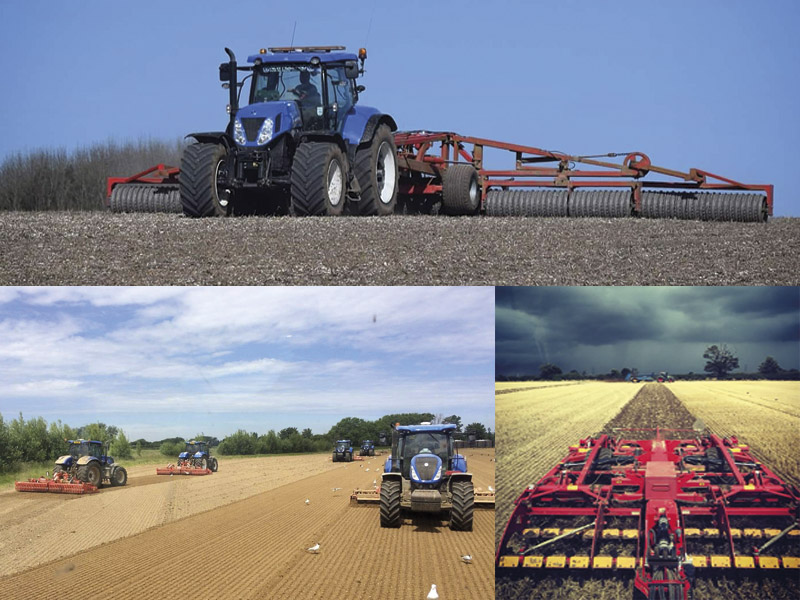 Following our popular Harvest Photo Competition we realised that there is considerable photographic talent among our customers, so we ran a Cultivation & Drilling Photography competition through the T H WHITE Agriculture Facebook page. Here are the winners – another set of stunning pictures we think you will agree.
THE WINNER (top left) is Lee Vallis for his shot of a New Holland T7 with He-Va rolls. The runners-up are (lower right) Andy Wilkinson's shot of a Väderstad top down cultivator in action, and Daniel Lane's shot (lower left) of New Holland T7s working with Kuhn power harrows.
Well done to all and look out for the next competition!
LOLER TESTING NOW AVAILABLE AT STOCKBRIDGE
01 Dec 2018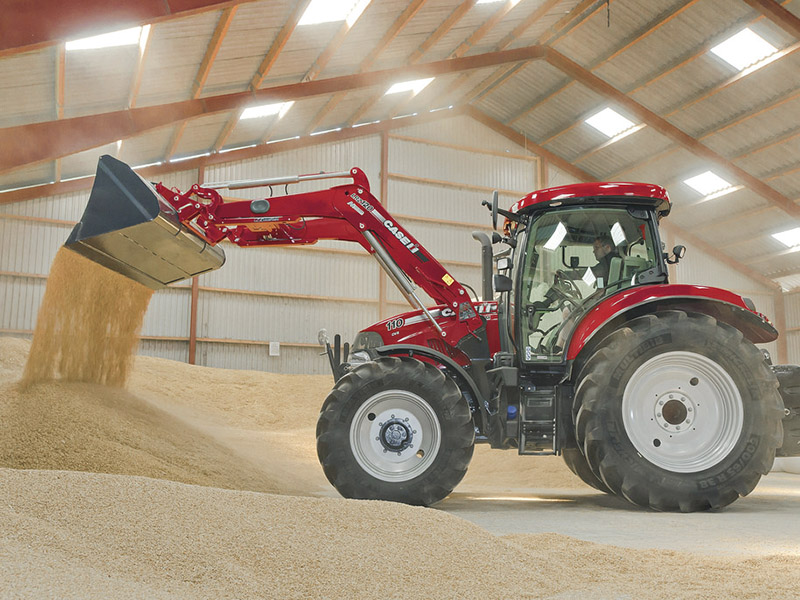 Annual LOLER tests, essential for anyone who owns or operates a fork lift truck, telescopic handler, or a tractor fitted with a loader, can now be booked at our Stockbridge branch for just £135 – or FREE if booked with your first service.
You are required by law to ensure that the machine holds a report of thorough examination on an annual basis. This requirement of a 'thorough examination' is embedded in Health & Safety legislation; Lifting components are covered by the Lifting Operations and Lifting equipment Regulations 1998.
So if you have purchased a machine in the last 12 months your LOLER test is now due. If you bought over a year ago you need to be sure that you have had your annual LOLER test.
Contact service manager Andrew Hannington on 01264 811260, or email andrew.hannington@thwhite.co.uk to book your LOLER test now at our bargain price of just £135 – a small price to pay for peace of mind. LOLER testing is also available at our other Agricultural branches.
AVEBURY PLOUGHING ASSOCIATION MATCH
01 Nov 2018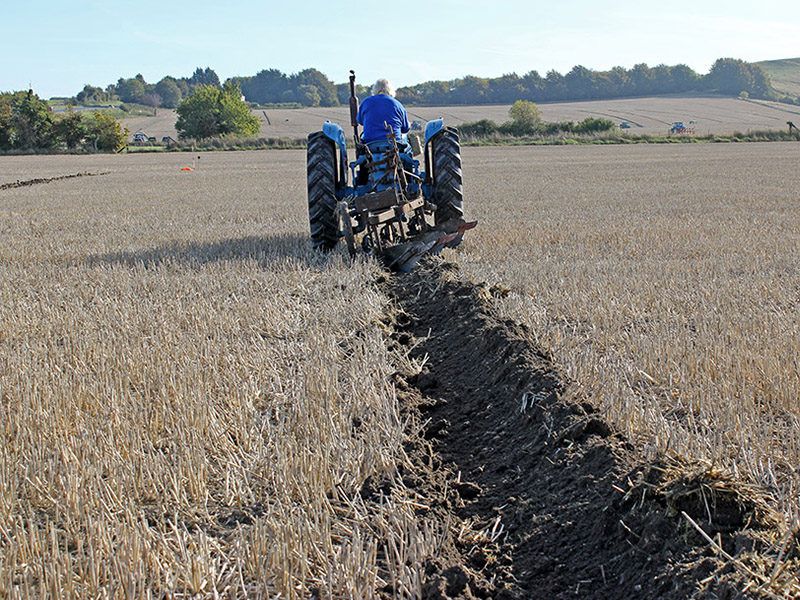 The day dawned bright and clear on 29 September as tractors old and new gathered at Bell Farm in the shadow of the Cherhill White Horse for the Avebury Ploughing Association Ploughing Match.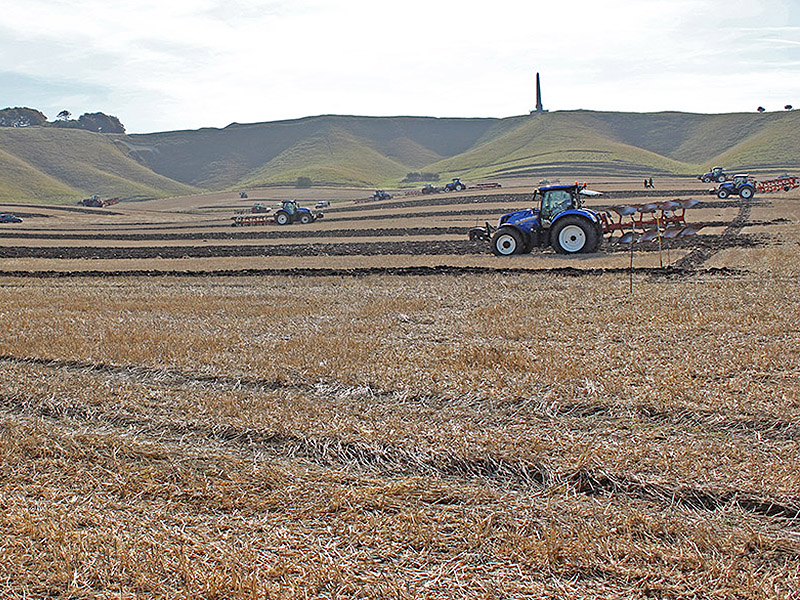 Always a great day for competitors and spectators alike, the entrants were soon at work demonstrating their skills and many T H WHITE customers were among those achieving success. Top prize winners were: Best Ploughman under 25: Richard Horton (J R Horton & Son); Reserve Champion Conventional: Philip Blake (Butler Bros, Avebury); Champion Conventional: Andrew Woolley (Puckshipton Farms, Marden); Reserve Champion Reversible: Nick Stevens (A4 Farmers, Cherhill); Champion Reversible: Ron West (T P Hayward, Tidcombe). Ron was also crowned overall champion ploughman.
In the trade classes T H WHITE entrants picked up four of the six awards. Full results can be seen at www.aveburyploughingassociation.co.uk.
Thanks are due to Home Farm (Minal) Ltd for providing the wonderful venue.
MAXXUM 145 ACTIVEDRIVE 8 STEALS THE DAIRY SHOW
01 Nov 2018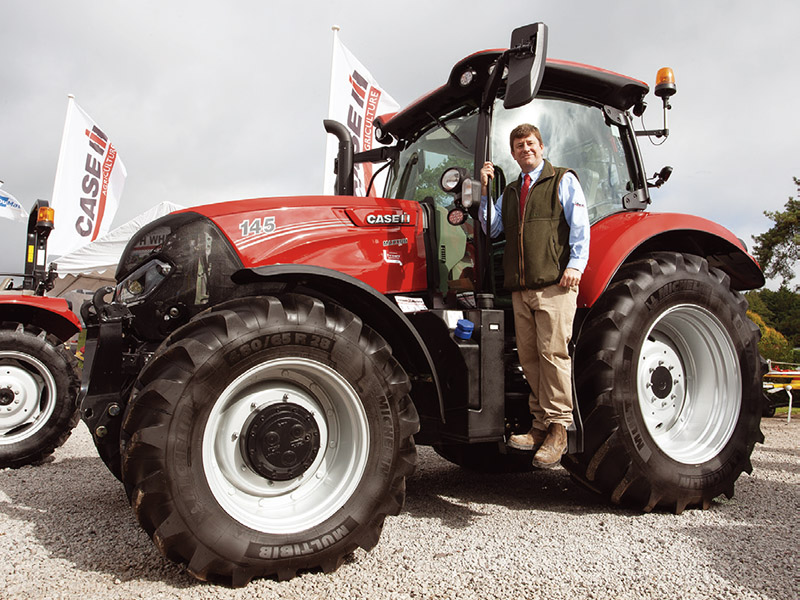 T H WHITE put on a strong showing at the 2018 Dairy Show in October for both Case IH and New Holland, together with the wide variety of equipment brands offered by our Agriculture and Dairy divisions.
A real eye-catcher on Avenue B at the Bath & West Showground was the gleaming line of red Case IH tractors, ranging from the compact Farmall to a mighty 200hp Puma. Impressive stuff, with a tractor to meet every need, but for many farmers the stand-out tractor was the Case IH Maxxum 145 with ActiveDrive 8 transmission. This new semi-powershift transmission offers eight powershift steps in each of three ranges, providing a total of 24 speeds in both forward and reverse, and is available on all Maxxum Multicontroller models.
Covering speeds up to 10.2 km/h, Range One is specifically designed for heavier draft work. Range Two, the main working range, covers nearly 90 per cent of all field, grassland and loader application requirements, allowing the tractor to work under full load, without any torque disruption, from 1.6-18.1 km/h.
For road travel, the transmission is designed to start in Range Three, and a skip-shift function then allows quick progress through the powershift speeds. An auto-shift feature means the tractor can be set to progress automatically through any set of eight speeds in the field, and through all 16 gears in the top two ranges on the road. A pedal kick-down function can be used to impose a manual downshift.
A clutch pedal is not required, meaning this transmission is suited to power-hungry tasks where momentum is important, such as cultivations or mowing with twin or triple mowers.
To try a Case IH tractor for yourself, just call Rob Iddeson on 01264 811260.
BOOMING SUCCESS FOR CIRENCESTER CONTRACTOR
01 Nov 2018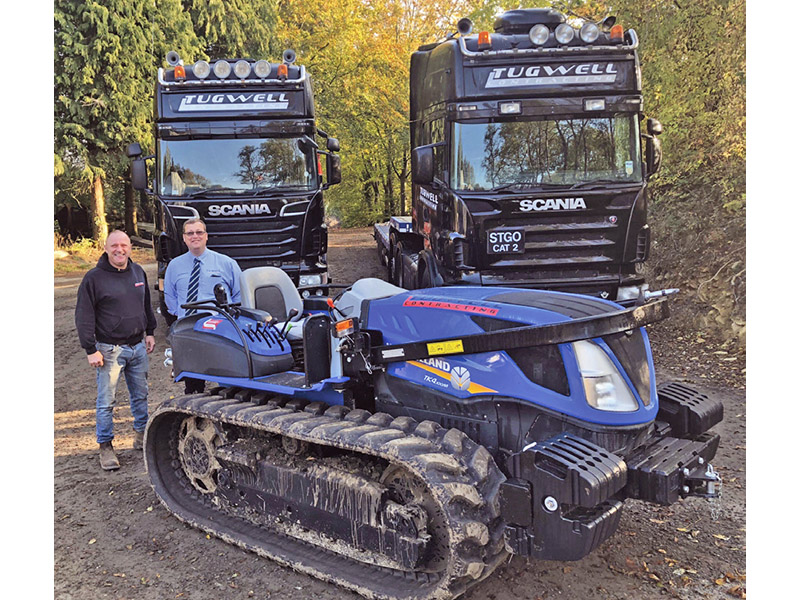 The smallest machine in the New Holland fleet demonstrates how versatile it can be in making the most intricate tasks easy, proving that bigger doesn't always mean better.
For the past 60 years the Tugwell Family has been a loyal customer of T H WHITE. Peter Tugwell started Tugwell Contracting back in 1958 with his son Adrian, now at the helm of the business. From general agricultural contracting to civil and solar park maintenance, there isn't much that Adrian doesn't cover with his fl eet of six New Holland machines and a variety of Kuhn equipment, all supplied by T H WHITE's Knockdown branch.
Solar park maintenance has been a big part of the business since 2013 and Tugwell now off ers this service throughout the UK. Adrian's New Holland fleet ranges from compact Boomer 50s to a T3 and TK4.100 tractor, meaning there is always a tractor suited to the job. When asked why he chooses New Holland, Adrian explains: "The Boomers and the T3 are great little tractors with plenty of power, while the TK model has really helped the team when ground conditions are not suitable for other machines. In the past we had to mow the solar parks by hand when the ground was too wet to get any of the other tractors onto site, but the TK has proved a big asset in our wet weather Solar Park contracts."
The agricultural contracting side of the business covers a 50-mile radius from the company's base just outside Cirencester, Gloucestershire, with over 7,000 acres of work carried out each year. Adrian favours Kuhn products for his tillage and grassland work with his collection ranging from 1.5-6m power harrows, toppers and combination drills. "I choose Kuhn because I know they are well-built and reliable," he says. The business also runs a few classics with which Peter Tugwell still undertakes general day to day contracting work, including a New Holland 7810, 8340 and 6640.
KEEP IT IN TRIM WITH A POWER ARM
01 Nov 2018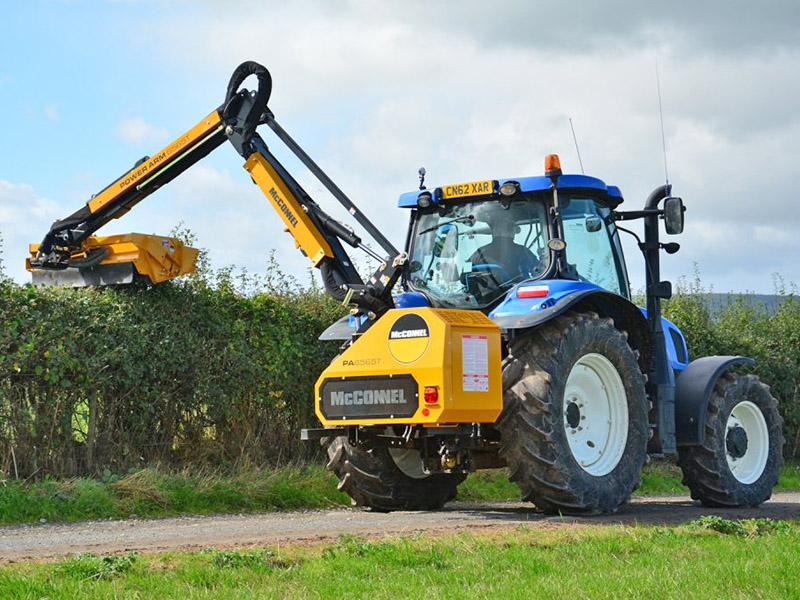 The fastest and most efficient way to keep hedges in trim is with a tractor-mounted power arm, and the widest choice on the market comes from McConnel. With 12 different series and 42 distinct models plus thousands of build options, unique bespoke machines can be created.
30-Series compact models can be operated with certain utility vehicles as well as small tractors and, with a reach of 3.4m to 4.8m are ideal for the landscape, amenities and ground-care sectors.
Moving up the scale, the range offers a choice of powerful hydraulics and different reaches to suit everything from the straightforward to the most challenging situations. A variety of different heads can be fitted, including multisaws, cutterbars, and rotary heads and, depending on the configuration specified, McConnel power arms are equally at home cutting hedges, mowing verges, clearing vegetation and trimming brush and shrubs.
Topping the range is the 1,000 series – a favourite with professional contractors and local government teams which offers up to 8m reach, and the Versi-Series which enables operators to cut on either side of the tractor at the touch of a button.
Find out about McConnel power arms at any T H WHITE Agriculture or Groundcare branch.
DO YOU NEED A LOLER TEST?
01 Nov 2018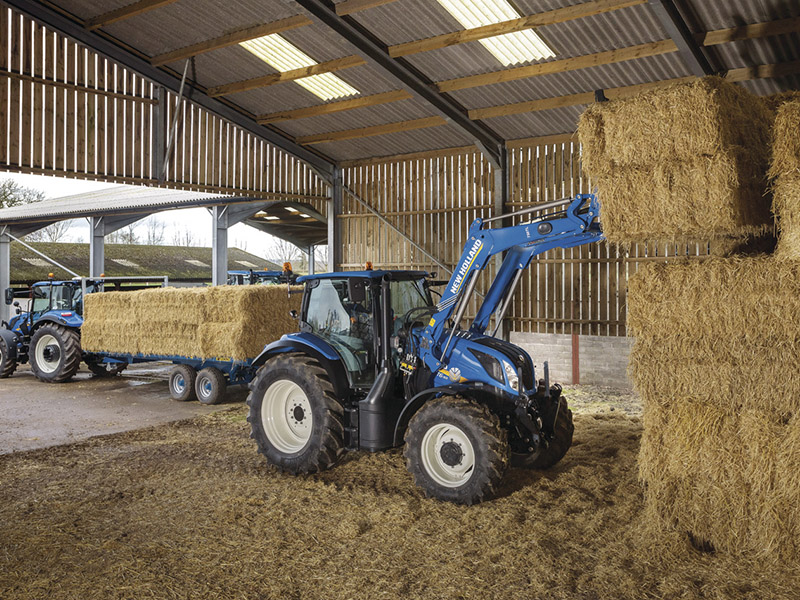 The answer is YES if you own or operate a fork lift truck, telescopic handler, or a tractor fi tted with a loader.
You are required by law to ensure that the machine holds a report of thorough examination on an annual basis. This requirement of a 'thorough examination' is embedded in Health & Safety legislation; Lifting components are covered by the Lifting Operations and Lifting equipment Regulations 1998.
So if you have purchased a machine in the last 12 months your LOLER test is now due. If you bought over a year ago have you had your annual LOLER test? We offer fixed price LOLER testing for just £130, or the test is FREE with your annual service.
To book your LOLER test just contact one of our service managers: Marlborough 01672 518407 ; Frome 01373 465941;Toddington 01242 620211; Knockdown 01454 238181.
A LOLER test can cost as little as £130* – a small price for real peace of mind. *Mileage and VAT not included.
GOING GREEN
01 Oct 2018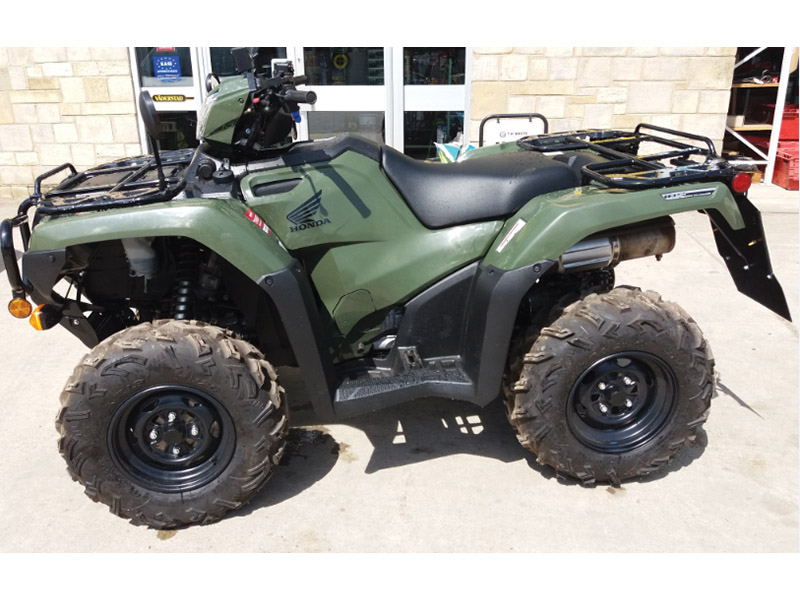 With the shooting season upon us, green is often the preferred colour for an ATV.
So just a reminder that T H WHITE can now supply Honda models TRX500FM6 Foreman and TRX420FM2 Fourtrax from stock in the lovely Honda green. There is also very limited availability of the TRX500FA6 Foreman Automatic in green.
For further information please contact Tim Rochfort on 07973 911934 or Simon Knight on 07860 712963.
HIGH QUALITY CLEARANCE SALE
01 Oct 2018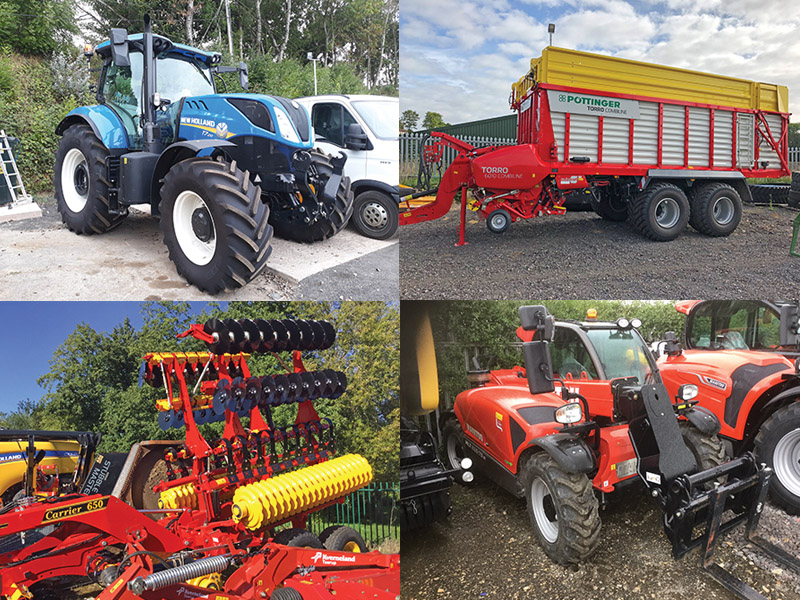 Check out our 'clearance bargains' for great prices on a selection of equipment – ex-display, ex-demonstrators, or simply items that we have had in store for a longer period.
Some items may exhibit signs of age or minor damage, but without exception they are high quality machines and implements, many of which are as good as new.
CLICK HERE FOR THE DETAILS OF WHAT'S ON OFFER!
All items are fully checked by T H WHITE technicians before delivery. For specifics, please contact your sales rep, or call 01373 465941 (Mon-Fri 08.00-17.00), 07710 985957 out of hours.
MULTI FEEDER OFFERS
01 Oct 2018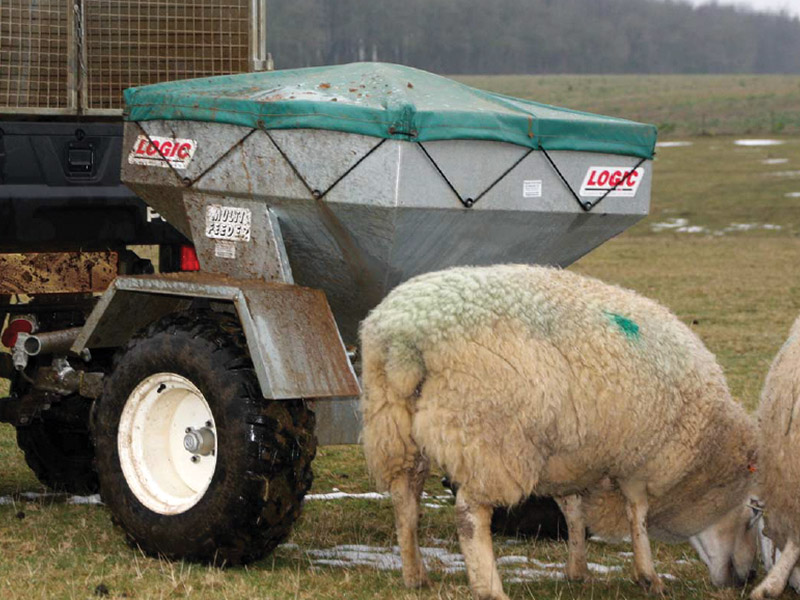 The Logic trailed Multi Feeder saves time, improves conditions for the stockperson as well as the profitability of livestock enterprises. Originally designed for sheep, the versatility of the design allows other livestock to enjoy the same benefits.
The trailed unit allows the use of bulk feeds (eg. nuts, rolls, pencils and larger cobs) when required. It handles most home mixes, even whole grain with minerals added.
Feeding can be carried out quickly with minimal disturbance to the animal group which can be a significant benefit when sheep are heavily in-lamb or animals are in a sheltered area during poor weather.
The Multi Feeder is simply switched on without the need to stop. It has a drop counter system which opens and closes a shutter leaving a calibrated amount of feed so that feeding can begin without bunching up and stress. Livestock very soon realise that feed is only available when the shutter starts to operate. Once feeding is completed and the sound of the shutter stops, normal inspection can be carried out without being followed.
A clean area can be selected each day for feeding and if necessary the operation can be interrupted to avoid wet ground or to move closer to another group of animals. There is no need for costly and labour-intensive feed troughs, eliminating associated feeding problems and badly poached areas around toughs.
Two special offers are available from T H WHITE Agriculture until 30 November 2018. A 'package' offer comprising the Logic LMF570K 365ltr feeder, Tonneau cover, mudguards and livestock fender on 22x11x8 wheels and tyres with resettable counter represents outstanding value at £1,650 plus vat. Alternatively the Logic LMF870K on larger 25x10x12 wheels (as pictured) is available at the offer price of £1,800.00 plus vat.
For further information please contact Simon Knight on 07860 712963 or Tim Rochfort on 07973 911934.
REAPING THE AWARDS!
03 Sep 2018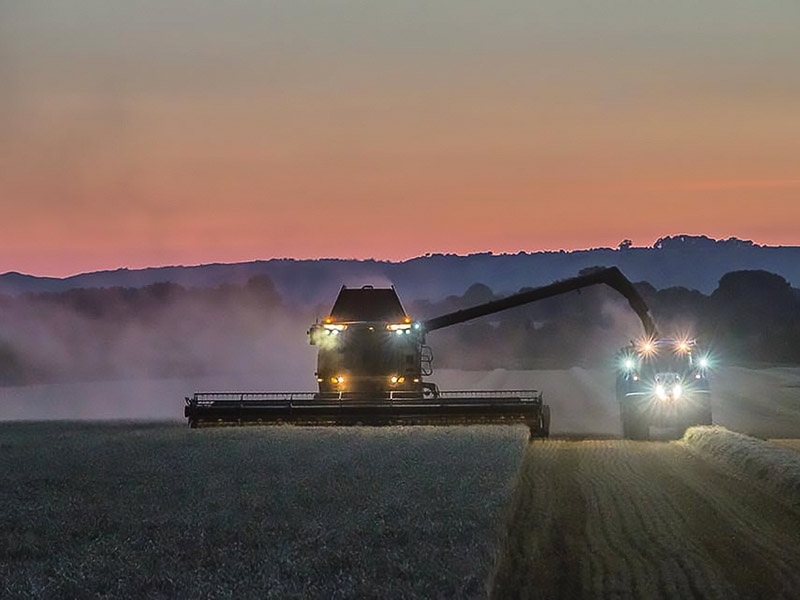 Well, what a harvest that was! Long hot days and sultry nights as the teams across our region worked round the clock, raising the dust and bringing in the crop.
Some of the entries to our Harvest Photo Competition – run through the T H WHITE Agriculture Facebook page – were truly stunning and we are amazed that there are so many outstanding photographers among our customers. There were so many great images that we can't share them all, but here's the winner and some of our other favourites.
RAPID TRASH FLOW ON COTSWOLD BRASH
01 Aug 2018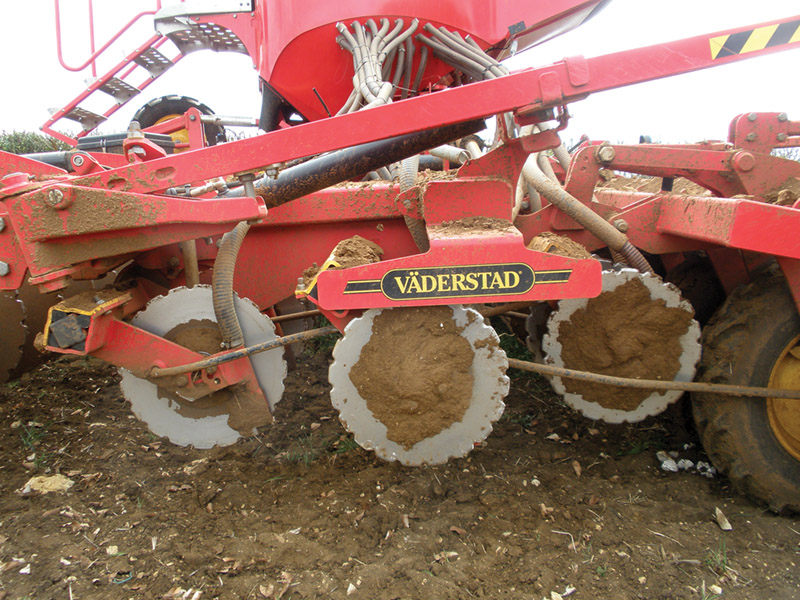 The improved residue flow from an 8m Vaderstad Rapid fitted with system aggressive discs has enabled a Cotswold Estate to sow in wetter, trashier soil conditions.
Six years ago, Ewe Pens Farm on the Bathurst Estate – operated by Cirencester Park Farms Ltd – made a policy decision to switch its machinery to a single high horsepower tractor, a big seed drill and a wider cultivator.
Farms manager Stuart Bachelor explains the reasoning: "There had been a big increase in the arable land farmed – we'd taken on another 300ha and needed the power and width of implements that would enable us to increase output, speed our work and reduce costs, as well as providing capacity for further expansion."
His ongoing challenge is to maximise output from the free-draining Cotswold brash over limestone, which can vary in depth from 15cm to 45cm on some of the 'better' ground.
Maximum yield in thin soil
"Our objective is to get as much as we can from our limited soil resources and make them more resilient to spring drought. The soil offers easy working but if we don't get rain in April and May yields can be disastrous," Stuart explains. "Due to our altitude – 750ft above sea level – we're colder and later in the spring. The thinness of the soil means that we need to achieve a well-established crop and get the roots down.
"Our target is to harvest the oilseed rape by the end of August and the wheat during the first fortnight in October; I believe in the maxim that 'a seed well sown is half grown' and it will provide competition against blackgrass and other weeds.
"We are highly aware of the need to increase organic matter and only bale straw in front of oilseed rape, the rest is chopped off the back of the combine and incorporated. And we import a lot of sewage sludge, FYM and digestate, which has also enabled us to reduce our use of triple super phosphate."
The shallow soil has also been the primary factor behind changes in cropping. For the past four years the arable ground has been farmed in three rotations. Growing conserved fodder for a neighbouring dairy farm influences one programme, the land down to a winter wheat, maize (141ha), winter wheat, oilseed rape cycle. On the deeper brash, spring beans replace the maize, while on the thinner soils winter wheat is followed by two barley crops (either winter or spring barley), before oilseed rape
"We grow oilseed rape one in four years as, although it has a high gross margin, I think growing it too often would a only offer a short term benefit as there are the potential problems of black grass and slugs," says Stuart. "The spring crops help us to keep on top of black grass but on the worst fields we are also meeting points requirements for the basic payment scheme using fallow and trialling a two to four-year herbal ley (grasses/clovers/sainfoin)."
'Knock the slugs about'
A variety of techniques are used to prepare the land for sowing. Oilseed rape is sown direct into stubble with a Vaderstad TopDown cultivator and BioDrill combination. Winter wheat land is cultivated and, if needed to create a suitable seedbed and to 'knock slugs about', a pass is made with a 6m Vaderstad NZA spring tine.
"We try to do the majority of spring crop ploughing in September," adds Stuart. "Some over-wintered stubbles are cultivated in February/March." On the maize land FYM is ploughed in with a 6-furrow Kuhn before a pass with a 6m Vaderstad Rexius Twin and drilling by a contractor.
Until 2012 the primary workload was carried out with 300hp and 350hp tractors hired in from mid-August to mid-September so that heavy cultivation and the oilseed rape establishment could be done at the same time. The restructuring of the machinery fleet brought about by the additional land saw an end to the hiring-in policy and a 320hp tractor was purchased to do all the primary cultivations and sowing with a wider, 5m TopDown and a bigger, 8m Vaderstad Rapid fitted with System Aggressive discs.
"I'd had experience of the Rapid and I think the depth control and the layout of the working elements, two rows of cultivations discs, a levelling board and two banks of drilling coulters, maintains the seed depth better than tines which can have a lot of movement. It also produces more uniform establishment. The discs have the whole weight of the drill on top of them – we drill at 10 to 16kph, depending on the stone content."
Third bank of coulter discs
But the Rapid was not faultless. "In really wet conditions it blocked up between the two rows of coulter discs," Mr Batchelor says. "That issue was addressed at the beginning of last year when the drill was replaced with another 8m Rapid, specified with the optional tool layout of two rows of system aggressive cultivating discs and a third bank of coulter discs in place of the levelling board. It still drills at 12cm as there are the same number of discs but as they are spread out more there is greater room for trash flow."
The drill is also fitted with the E-Services system, which is used for variable rate seeding, rather than variable rate fertiliser, to compensate for variations in soil type and depth. "Courtyard Agriculture has scanned and zoned all the arable fields into different soil types and zones are sampled every three years. Wheat and barley seed rates vary between 300 – 450 seeds/m2."
Although Cirencester Park Farms Ltd has used the modified Rapid for only one autumn Mr Bachelor believes the investment has been worth it. "We drilled wheat in November with no problems and by the end of February establishment looked good," he says. At the time of writing it was too early to comment on yield but the potential is similar to the previous drill as the principle is the same, but with the flexibility to cope with wetter, trashier conditions.
Enter our Harvest Photography Competition
01 Aug 2018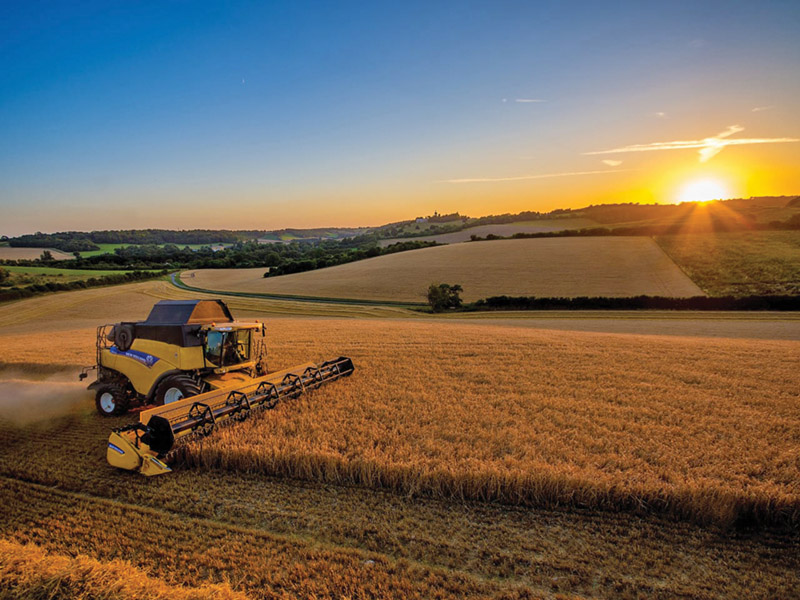 Celebrate a challenging harvest with us by entering our Harvest Photography Competition!
Post your picture on our Facebook page (www.facebook.com/THWAgriculture) with an accompanying comment if you wish, and we'll pick a winner at the end of the season. Here's one already posted by Michael Szollosi – the standard will be high so good luck!
Ski Centre Chooses Honda and Logic!
01 Aug 2018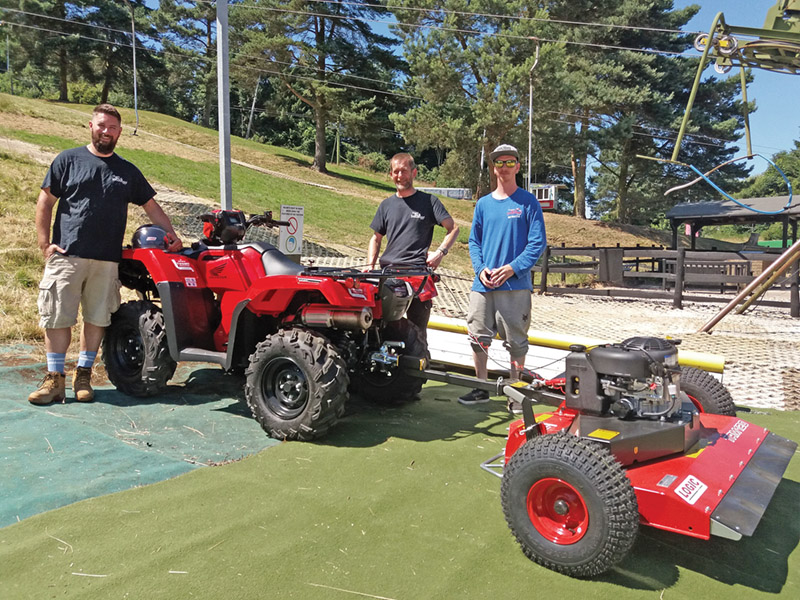 Tim Rochfort from our Toddington branch was recently contacted by Elliot Gregory at the Gloucester Ski and Snowboard Centre – a premier dry ski slope, renowned for the pleasure it has given to skiers of all abilities over the last forty years.
Elliot's request was to replace his unreliable old quad bike with something more professional which he could also use to cut and manage the grass surrounding the dry ski slope, a job he had been doing by hand with a Flymo!
Tim took two Honda ATV models for Elliot to try. After the 'hands-on' experience he went for a new Honda TRX500FM6 Foreman which offers the grip and power he needs, light, power steering and outstanding reliability. To meet Elliot's mowing challenge a new Logic TRM120 rotary mower was also delivered. This is towed behind the Honda and will help to keep the grass under control.
The Honda  plays an important daily role providing transport with a trailer up and down the slopes to carry out essential maintenance. Health and Safety is taken very and all the users have arranged to attend an ATV Operator training course, also purchasing ATV safety helmets!
Elliot has been delighted so far with performance of his new ATV and mower and is also pleased with the finish and improved look of the Ski Centre. It's another example of the many applications in which Honda ATVs excel, combining with Logic accessories to deliver a durable and reliable work package.
FIRST NEW BAUER SEPARATOR IN UK AIDS ORGANIC CYCLE
01 Aug 2018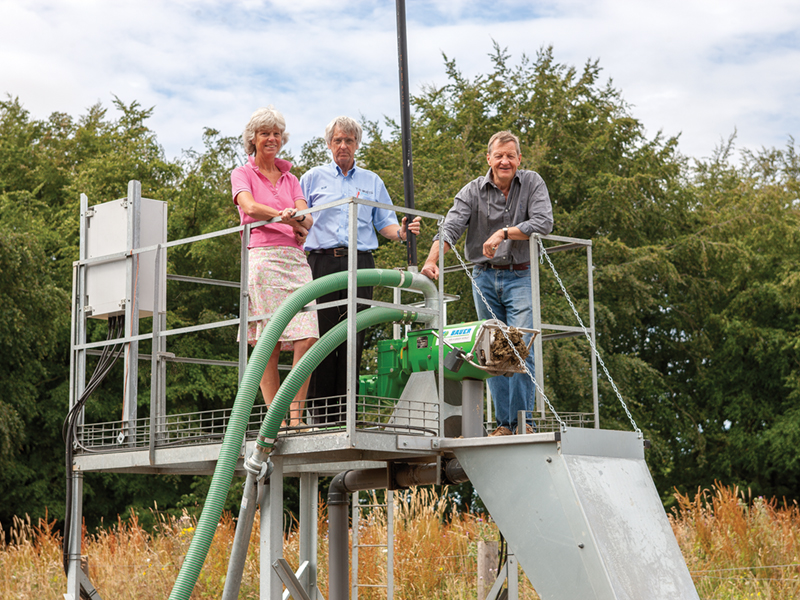 'Organic' has become a desperately over-used term in agriculture. While the move away from chemical fertilizers and pest control is to be applauded and has encouraged a burgeoning market, it's not until you experience a truly organic farm that you realise just how different  things can be. 
Manor Farm at Chedworth, between Cirencester and Cheltenham, shows what it really means to go organic. Formerly a mixed arable and dairy farm,  it is now a purely dairy farm with a 300-strong milking herd. Since making the decision to go organic in 2008, owners Jeannie and Tim Hamilton have worked with farm manager Robert Richmond to establish a sustainable environment for wildlife and farming in which the application of soil science and the natural treatment of waste are key factors.
It wasn't always like this, as Jeannie explains: "When it was a mixed farm we had Dairy Shorthorn and British Friesian cows, 130 in milk, and breeding replacement heifers. We operated a low input, low output system with autumn block calving. Now we have 300 cows and block spring calving and all the cows live outside all year round, outwintered on straw pads.
"Robert took over as manager in 2004 and, apart from the transition to organic status in 2008, he has demonstrated his passion for growing good grass, which adds to the health of the soil as well as contributing to the welfare of the cows. In 2011 he undertook a Nuffield Scholarship exploring carbon sequestration on soils.
"What you see on the farm today is the result of Robert's efforts. We have some 550 acres of grass, deep rooting herbal leys and fodder crops, growing on the free draining Cotswold brash soil, which has been improved with extensive composting."
In 2016 a former grain store was converted for the installation of a new milking parlour, and at the same time an aerobic and reed-based slurry handling system was put in. The objective was to process waste naturally to end up with water sufficiently clean to use for irrigation and, potentially, even washing down in the parlour.
"Early results have been encouraging," adds Jeannie, "but earlier this year we decided to install a slurry separator to reduce the amount of fibre in the slurry, thus to provide a more efficient transfer of dirty water to the beginning of the aerobic system."
Enter Bob Gallop, T H WHITE's slurry specialist: "When Robert Richmond asked me to look at the intended application at Manor Farm, the timing could not have been better," he says.  "A new Bauer compact slurry separator – the S300 – had been premièred at last year's Agritechnica exhibition in Hanover and I knew it would be perfect for Manor Farm."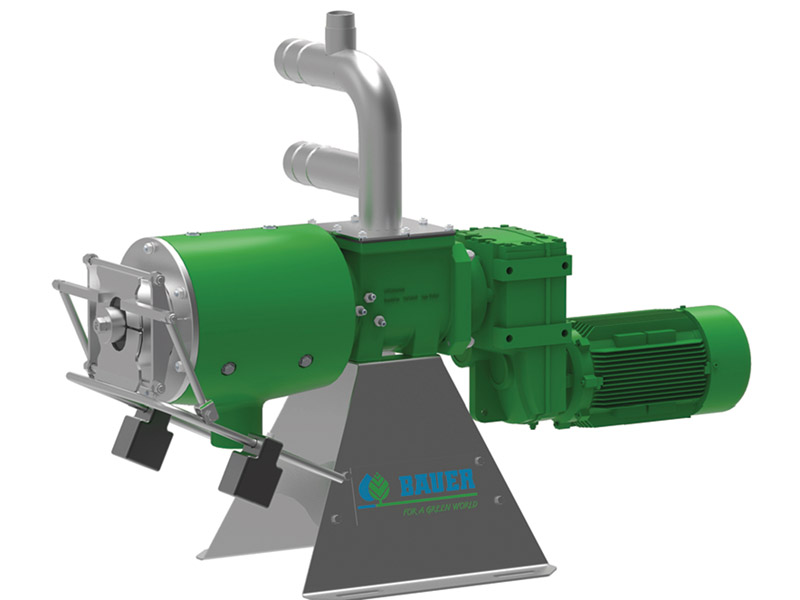 The Bauer S300 is a new design of press-screw separator which is able to produce a higher dry matter content than its predecessor, with a similar throughput of up to 16m3 per hour. Hard-wearing components give it a long life and it benefits from low operating costs and an optimum cost/performance ratio.
As the S300 is new and worldwide interest was high, Bob had to pull some hefty strings to obtain the unit, but he succeeded in getting the first one imported to the UK and work to install it on a purpose-built platform began in March. The slurry is drawn from a holding pit and passed through the separator which takes out a high proportion of the solids, returning the liquid residue to the reed beds.
"It's early days yet," says Jeannie, "but we believe the separator is already having a significant effect. We need to carry out chemical tests to confirm the results but they are looking extremely good. The dry matter that the separator extracts really is dry and odour-free and we add it to our compost which all goes back on the land."
If you have a slurry challenge that could benefit from the advice of a specialist, call Bob Gallop on 07831 883734, or email him, rg@thwhite.co.uk.
Avebury ploughing match
01 Aug 2018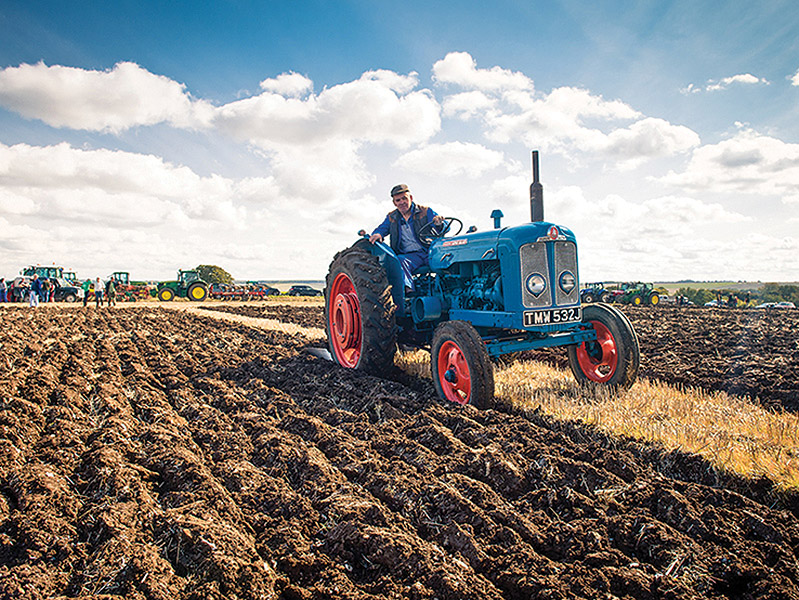 Once again the Avebury & District Ploughing Association will be holding its annual ploughing match in September.
The event has a history that stretches back more than a century  and traditionally sees the very best local ploughmen pitted against each other. Although the venue has yet to be decided, the date has been set for Saturday 29 September.
There will be classes for vintage, conventional and reversible ploughing open to ploughmen in regular full time employment within a 15-mile catchment area of from Avebury, as well as trade classes open to employees of agricultural engineering firms in North Wiltshire.
More details of the event and venue, as well as entry forms will shortly be posted at www.aveburyploughingassociation.co.uk.
Productive drilling with Vaderstad Tempo precision seeder
10 Jul 2018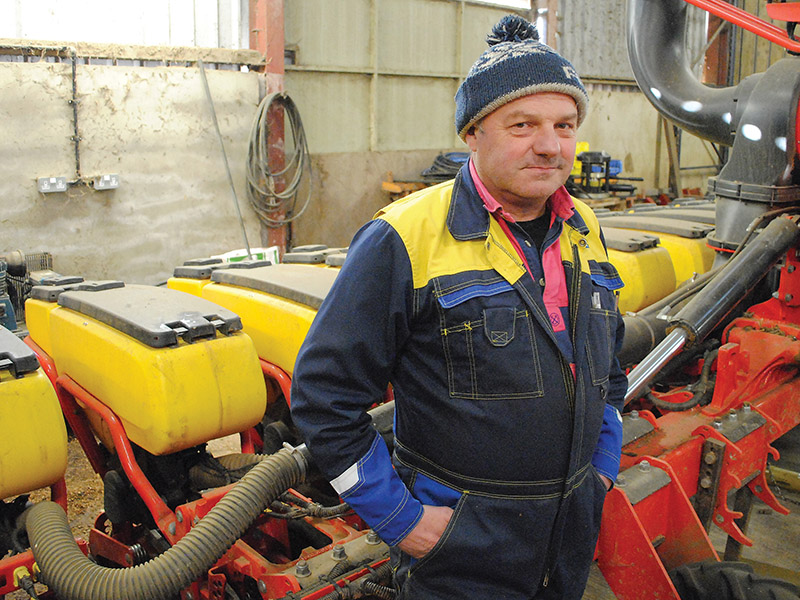 A Gloucestershire farming and contracting business has changed to a Vaderstad Tempo precision seeder from a shoe to disc coulter type due to its consistency of planting depth.
Pither Agriculture Ltd farms in the Vale of Gloucester and the Cotswold Edge and the difference in temperature between the two areas plays an important role in the establishment programme of the company's 600 acres of autumn-sown oilseed rape.
"At that time of year there is a 2deg difference between the high ground and the Vale," says Derek Pither, "and as it gets later in the season the temperature drops faster so we need to plant about 10 days earlier." Oilseed rape is one of the break crops grown by the company on its 5,000 acres spread across a 10-mile radius from its base at Droys Court, Little Witcombe.
"We're ring-fenced in Gloucestershire," laughs Mr Pither. He explains that the acreage is split 50:50 between combinable crops and grassland. Winter wheat (1,500 acres) for the 2018 harvest, and 'small amounts' of winter and spring barley. There's also maize (60 acres), which, together with 300 acres of 3-4 year leys and 200 acres of meadow pasture, provide silage and hay for a 1,400 head store-to-beef herd, plus 1,500 acres of hill grazing.
CONTRACTING OPERATION
A contracting operation accounts for 20 per cent of the business, which helps to justify the purchase of machinery such as the firm's 6m power harrows, self-propelled forage harvesters and combine harvesters. There are also some 650 acres of maize drilled under contract, which, together with the oilseed rape acreage, validated the purchase of a new precision seeder last year, a 6m mounted Väderstad 12-row Tempo.
"We used to establish all the oilseed rape with our 8m Väderstad Rapid and the maize with a shoe-type coulter precision seeder," Mr Pither explains. "We wanted to change the seeder and trialled a number of manufacturers and models last autumn. From the demonstration we could see the benefits of the Tempo's discs, which cut rather than bulldoze a slot, and so allowed a more consistent planting depth, particularly in our varied soil types.
"I have considerable experience of Vaderstad equipment – I've run Rapids for the past 15 years and I liked the Tempo's build quality. It's heavy as it incorporates a lot of high-grade steel and we run it on a 200hp long wheel-base tractor with big wheels. I'm also impressed by the research and development that has gone into the drill."
Mr Pither specified the Vaderstad Tempo precision seeder with micro-fertiliser/slug pellet applicators and wheel mark eradicators, and T H WHITE's Toddington branch delivered the drill in time for the 2017 sowing campaign. It established all the maize and, due to the temperature difference between the Vale and the Cotswolds, the bulk of the autumn oilseed rape. Ideally drilling takes place throughout August, with the Tempo establishing the Vale ground at a 51cm (20ins) spacing.
However, towards the end of the month the high ground is drilled with the Rapid at a standard 12.5cm spacing. "We need to plant 10 days earlier on the brash and we don't want to use the wide spacing as we won't get the canopy coverage before winter with the added potential problem of pigeons coming in," Mr Pither explains. "And the later it gets the more critical it becomes as the temperature drops faster."
8 OR 12 ROW FLEXIBILITY
Last spring the Tempo was configured as an 8-row when drilling the maize at a 76cm (30ins) spacing, but for this season the drill will be in its 12-row format for both the maize and the oilseed rape. "The ability to use the drill as either an 8 or 12-row definitely gives us flexibility.
"But it does take a day to reconfigure the drill and I don't see the benefit of going to the wider row width; I can't see a problem with 51cm or a disadvantage, the crop has still got a reasonable spacing. A 25 acre trial in the Vale in 2016 showed that there was no detriment in oilseed rape yield by going wide – the additional space gave the plants room to branch and compete.
"The Tempo is more expensive but we can drill faster, around 11kph. Although we don't push it, we aim for 100 acres per day in oilseed rape, and there is more even establishment due to the consistency of planting depth. Also, we can apply micro-fertilisers or slug pellets when drilling. If necessary, the E-Control system gives us the ability to vary the seed rate from the cab. So far, we've drilled 700 acres of maize and 500 acres of oilseed rape. We'll know more about the Tempo after harvest, but overall I'm very impressed with the drill."
To find out more about Väderstad seeders or arrange a demo contact any T H WHITE Agricultural branch. Contact us now to obtain the best order terms before 31 July.
Electric start for Logic paddock mower
10 Jul 2018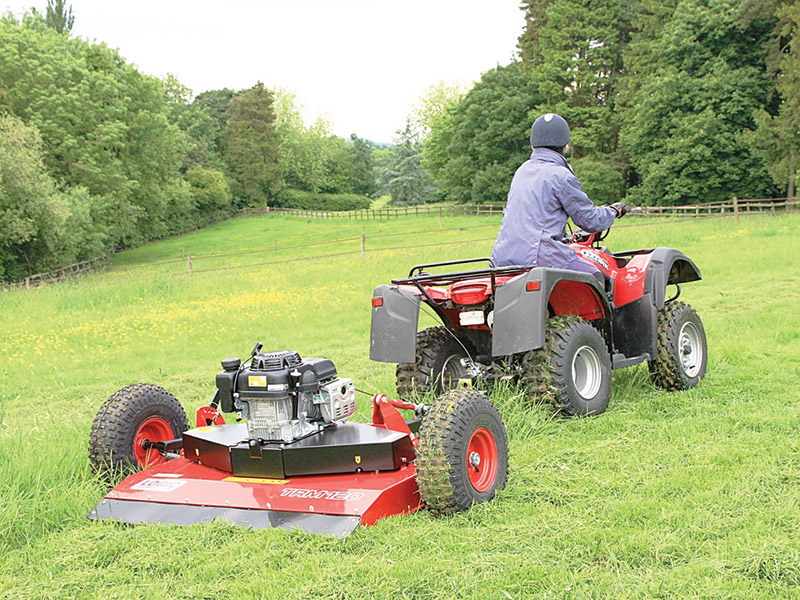 A new addition to the Logic family of rotary mowers is the Logic TRM120B13FWES – with easy electric start!
At the simple turn of a key the 12.5hp Briggs and Stratton Engine will burst into life without any of the effort required to pull a cord, although it's still there for back-up.
The TRM range is outstanding at managing larger areas of grass quickly and efficiently at speeds up to 10kph. Little and often is the way to tackle longer grass with this machine and within no time see the difference it can make towards achieving a tidier paddock.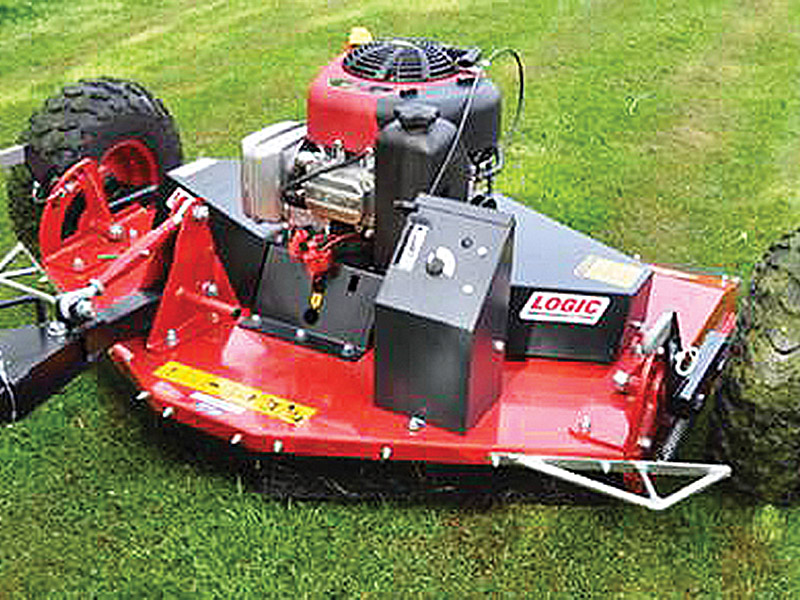 There are five height settings, an adjustable towbar for offset and hitch height, remote throttle control and an all-important safety cut -out, all enhanced by outstanding Logic build quality.
For more information about the Logic TRM 1.2 and 1.5m, starting from £2,895.00 plus vat, please contact T H WHITE Logic specialists, Tim Rochfort on 07973 911934, or Simon Knight on 07860 712963.
Kawasaki Mule Pro MX
10 Jul 2018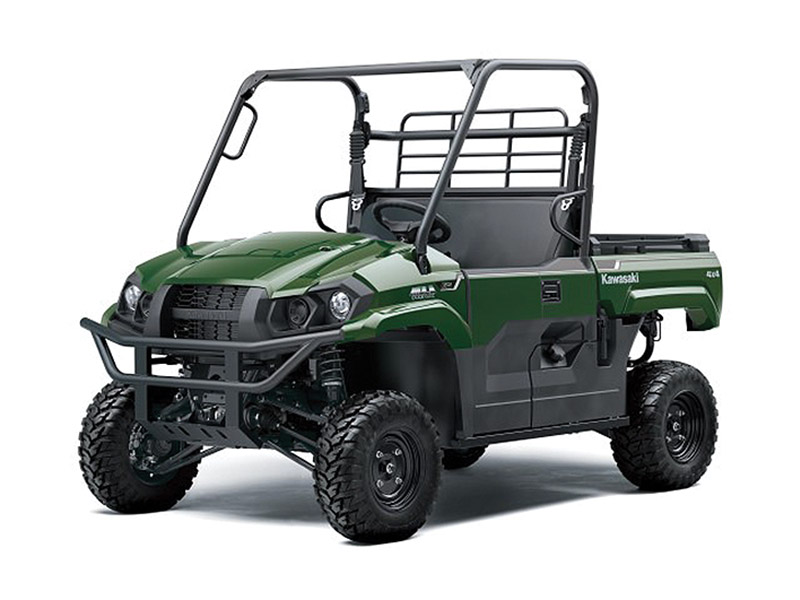 This all-new smaller Kawasaki Mule Pro MX is powered by a torquey 700cc economical, fuel injected petrol engine, offering quiet, smooth and powerful performance.
Size-wise the Mule PRO-MX offers the ideal balance between compact and full size UTVs. Measuring 2.795m long by 1.525m wide, it will fit neatly into more restricted areas around the yard, golf course, shoot, dairy or farm. Key features include a contoured bench seat, power steering, two and four wheel drive with difflock, towbar, independent suspension and disc brakes. Carrying and towing capacity is impressive at 317kg and 680kg respectively.
The petrol tank holds 36ltrs and the dashboard has all the important information to hand, with full lighting and an adjustable steering wheel.
A range of cab options and accessories will be available shortly.
The Mule Pro MX is due for delivery soon and T H WHITE has ordered demonstrators for you to try. So before you consider another brand of petrol UTV why not book a demo of the new PRO MX. Contact either one of our Groundcare specialists on 01454 238181, or for Agriculture Simon Knight on 07860 512763, or Tim Rochfort on 07973 911934.
Busy Badminton
01 Jun 2018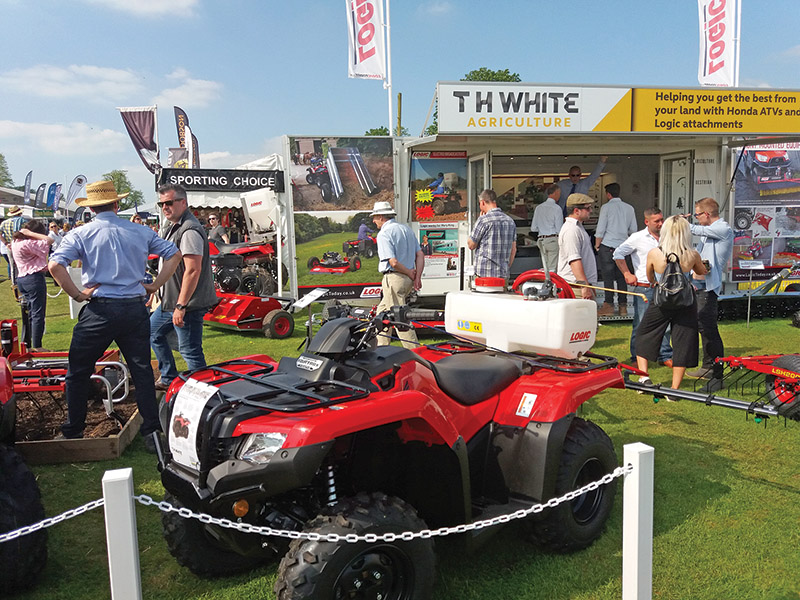 The Mitsubishi Motors Badminton Horse Trials this year was blessed with amazing weather and we welcomed many new and existing customers to the T H White stand.
With much of equestrian interest for paddock maintenance, orders were taken for new Honda ATVs, Logic mowers, sprayers, rollers and trailers. A highlight was a visit by world class event rider Mary King MBE, who was there to sign her latest book.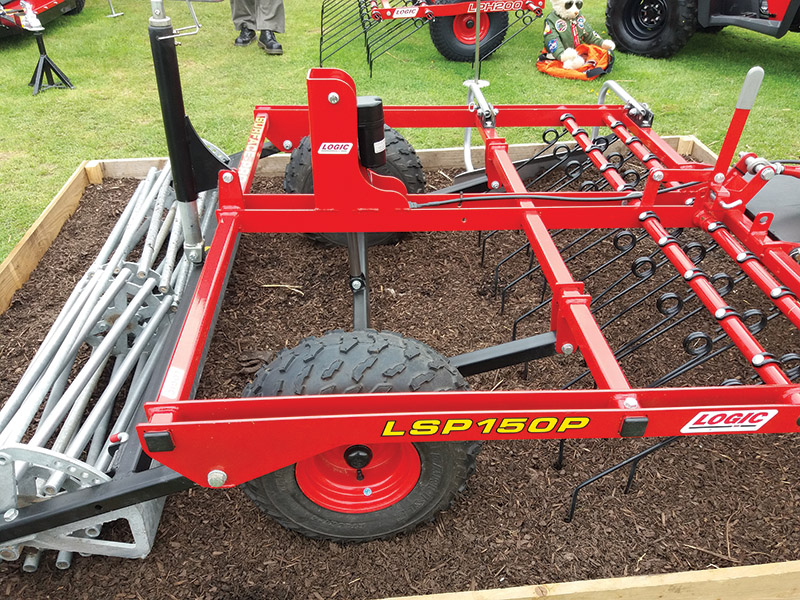 Launched at Badminton, was the all-new Logic Surface Pro LSP150P manege grader. Designed to provide a professional finish for modern sand and fibre sand arenas, this is an all-in-one rake, rolling and compacting attachment for your ATV, UTV or tractor. It's  designed to be very easy to use without endless adjustments.
It features a split compacting rear roller, adjustable level bar, three settings for the Einbock spring tines, as well as electric raise and lower with depth gauge. A kickboard perimeter plough guides loose material back onto the surface. To arrange a demonstration please contact Tim Rochfort on 07973 911934 or Simon Knight on 07860712963.
Red power on tour
01 Jun 2018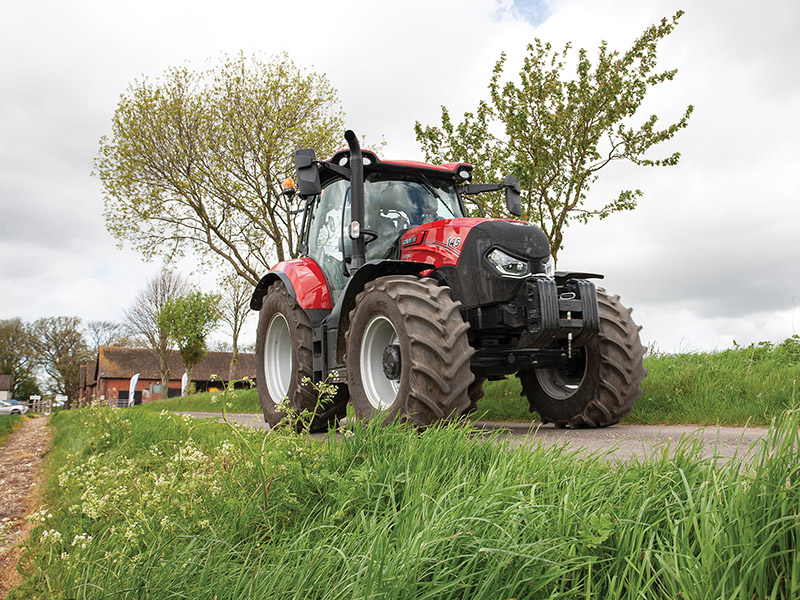 The Case IH Red Power On Tour 2018 roadshow came to the West Country on 26 April when T H WHITE hosted an impressive array of red tractors, combine harvesters and machinery at the Compton Manor Estate, Kings Somborne.
Star of the show was the latest Maxxum Multicontroller tractor fitted with the new ActiveDrive 8 semi-powershift transmission. This offers eight powershift steps in each of the three ranges, giving a total of 24 speeds in both forward and reverse, and is available on all Maxxum Multicontroller models.
Covering speeds up to 10.2 km/h, range one is specifically designed for heavier draft work. For special applications requiring very low speeds, such as vegetable crop work, ActiveDrive 8 is also available with additional creep speeds. Range two, the main working range, covers 90 per cent of all field, grassland and loader application requirements, allowing the tractor to work under full load, without any torque disruption, from 1.6-18.1 km/h. For road travel, the transmission is designed to start in range three, and a skip-shift function allowing quick progress through the powershift speeds. A clutch pedal is not required, meaning this transmission is suited to power-hungry tasks where momentum is important.
Guests at the Red Power event certainly enjoyed their chance to test drive the Maxxum MC Active Drive 8. If you would like to try it yourself please contact the Case IH specialists at our Stockbridge branch on 01264 811260.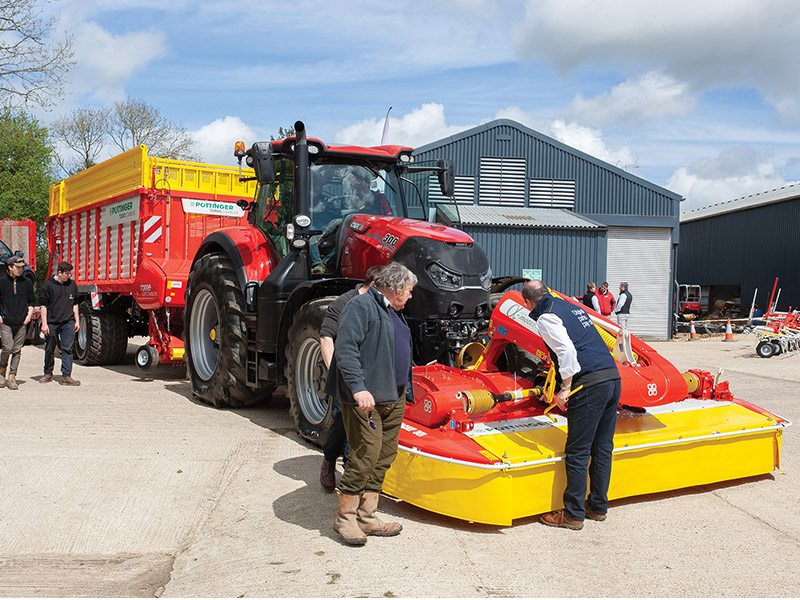 Glorious Grassland
01 Jun 2018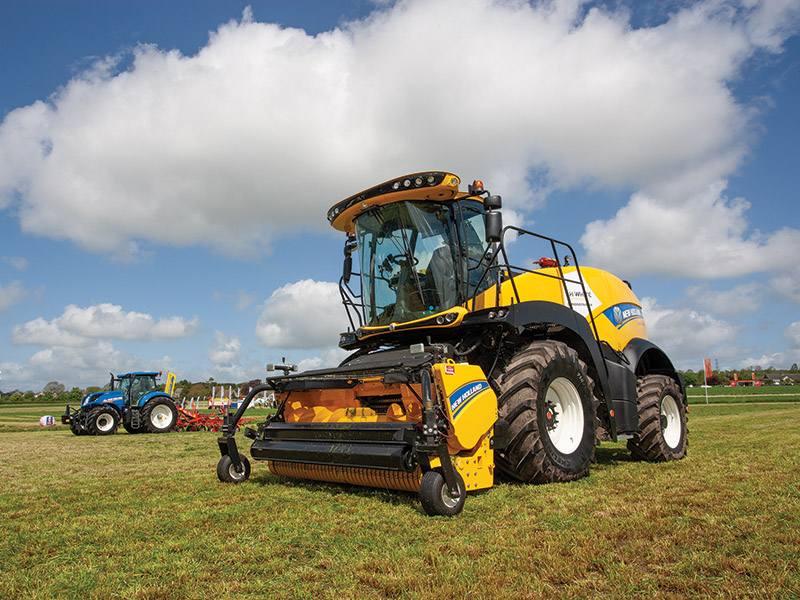 The first thing to hit you about Grassland UK is the sheer size of the event. For 2018 the show was held at the Bath & West Showground near Shepton Mallet, where large fields on adjacent farms had been made available for growing, mowing and clamping demonstrations.
Forming a fantastic showcase for the latest equipment and technology, the 10 May event was a 'must-see' for all grassland professionals and benefited from glorious early summer sunshine.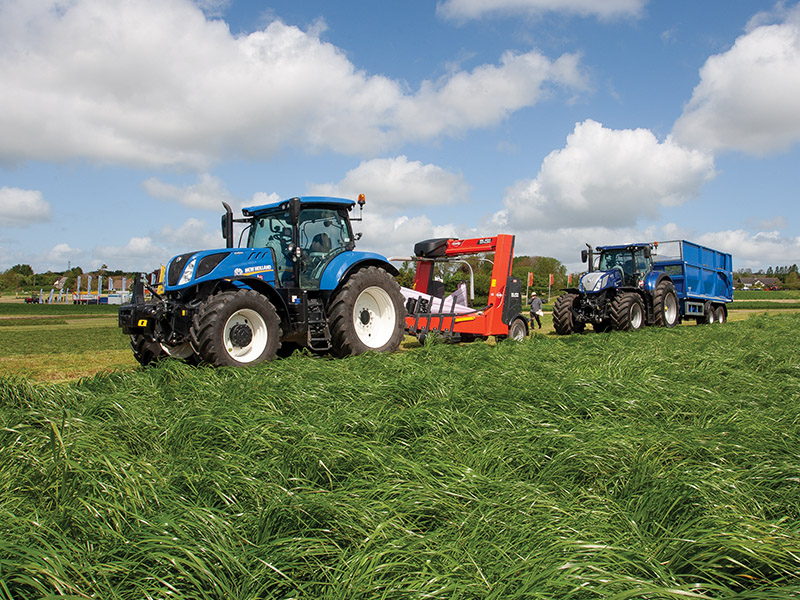 T H WHITE was based in Field Three where the entire exhibit was dedicated to New Holland equipment with accessories from T H WHITE's other leading suppliers. Although our patch was a good 30-minute walk from the show entrance, the thousands of people who came to see us were rewarded with some impressive demonstrations, including the first outing of our new FR650 Forage Cruiser demonstrator.
The FR650 is one of five models in a new line-up that have been designed to up the game in terms of capacity, comfort and economy. For example the FR650 has five per cent increased capacity while consuming 21per cent less fuel than its larger FR700 predecessor, thus reducing costs and increasing profit. Advanced MetaLoc

technology protects the FR from potentially fatal metal ingress. The patented Variflow

system crop processor can be changed from maize to grass position in less than two minutes without the need for tools.
The cab has been completely redesigned to put the operator at the heart of the machine, giving an uninterrupted view for accurate pick-up and crop discharge. A new armrest design places all controls naturally to hand including an ultra-wide screen IntelliView

IV colour touchscreen monitor. The IntelliFill

feature fills the trailer for you so you can concentrate on the serious business of pick-up.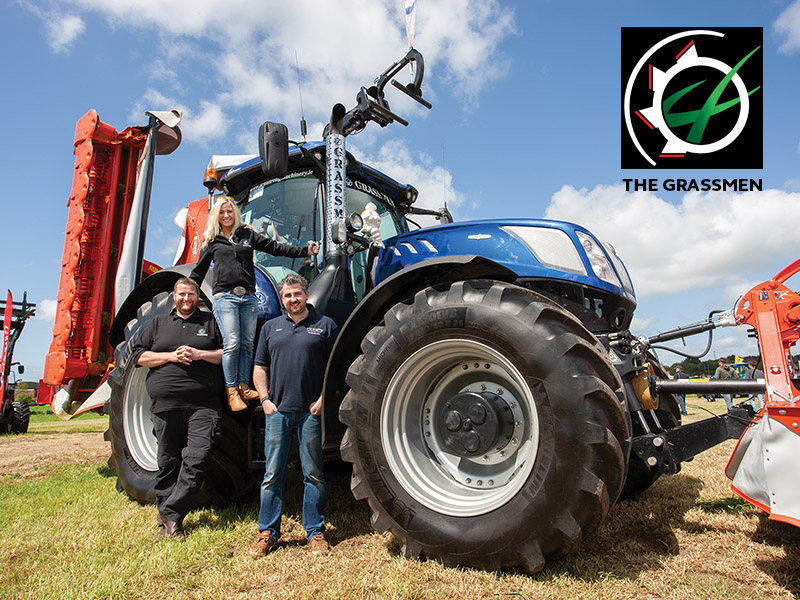 A highlight in the T H White field was the presence of the GRASSMEN – the charismatic charity video bloggers from Northern Ireland who came over to reluctantly hand back their beloved New Holland T7.315 Blue Power tractor which, for the last year, they have used as part of their initiative to raise more than £250,000 for the Make-A-Wish cancer charity. But, before handing over the keys they gave one final demonstration which showed off the massive power and capability of the T7.315; fitted with Kuhn mowers front and rear the T7 powered across a huge swathe of standing grass in seconds, reducing it to a uniformly mown crop and filling the air with the heady aroma of cut grass.
Don't worry if you missed GRASSLAND – we can arrange a demonstration of the New Holland Forage Cruiser or tractor. Just contact any of our agricultural branches.
New Holland's tempting T7 at 0%
01 Jun 2018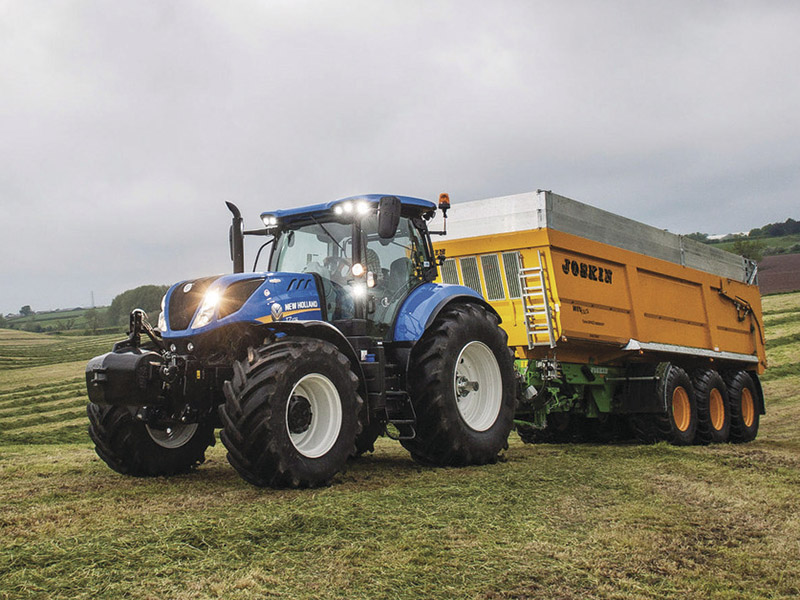 The New Holland T7 series tractors are among the most capable and versatile tractors available today and the process of acquiring one is being made even more attractive by a great 0% finance offer.
Until 30 June 2018 finance is available on the basis of 1+3 at 0% on New Holland T7 SWB and LWB models, while the T7.290 and T7.315 are offered at 1+2 at 0%. These finance packages are in addition to the T7 Service Plus Platinum Upgrade which provides two additional years of Service Plus insurance cover at the Platinum level. There has never been a better moment to go for a new T7 tractor.
Terms and conditions apply to these offers, so for all the details just contact your nearest T H WHITE Agricultural branch.
ATVs help out at Badminton
01 May 2018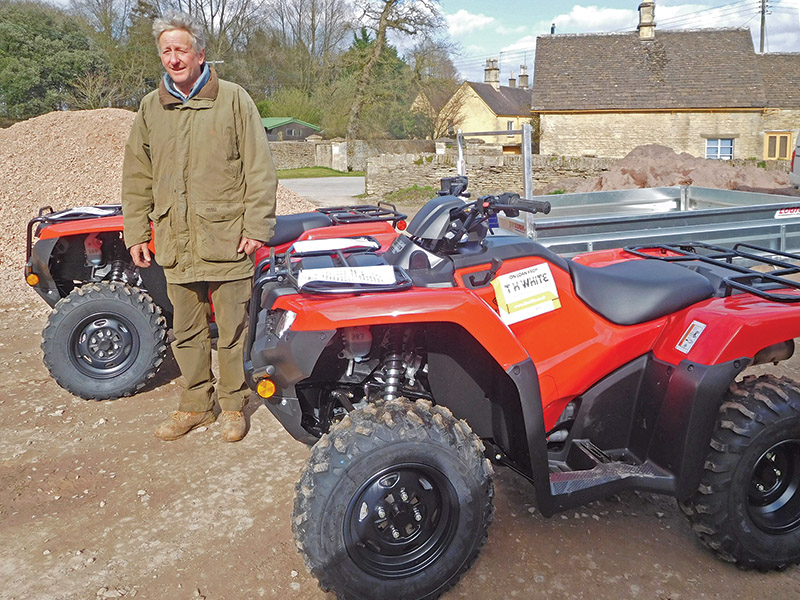 T H White is pleased to support the Mitsubishi Motors Badminton Horse Trials 2018 (2-6 May) by supplying Honda ATVs for use by the operations team. Pictured here is Harry Verney, health and safety officer, who is responsible for the set-up and ground work on site.
For many years T H White has supplied two Honda ATVs which have proved invaluable and convenient for getting around the site without damaging the ground. They are responsive and efficient – and, of course, reliably Honda!
Don't miss T H White's stand at the event, number 73 on Deer Park Drive, where the range of Honda ATVs and Logic attachments will be on display. We look forward to welcoming you.
The Grassmen join T H WHITE at GRASSLAND UK 2018
01 May 2018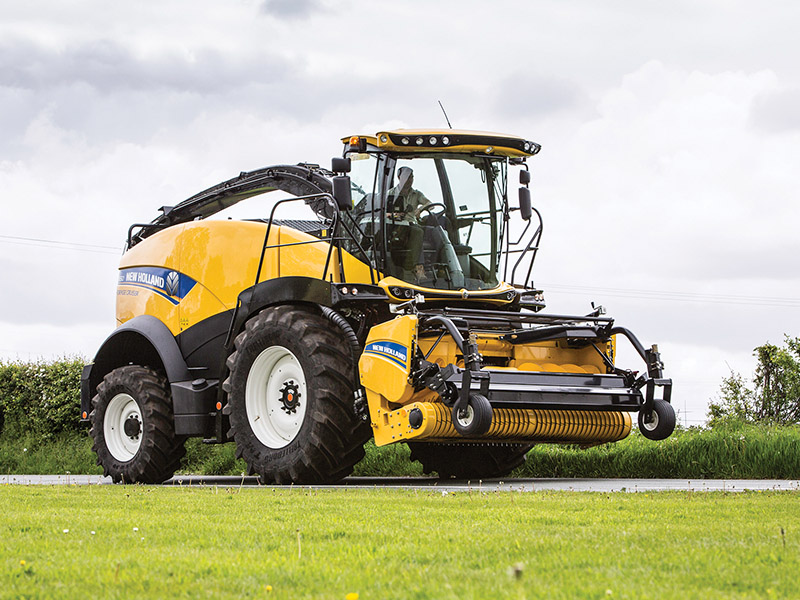 TWO FREE TICKETS TO BE WON!
New Holland is teaming up with T H WHITE at Grassland UK this year, and the popular video bloggers 'The Grassmen' will also be supporting the duo. More than 7,000 farmers are expected to attend the one-day show on Thursday 10 May on a working farm adjacent to the Royal Bath & West Showground – and we have two free tickets up for grabs!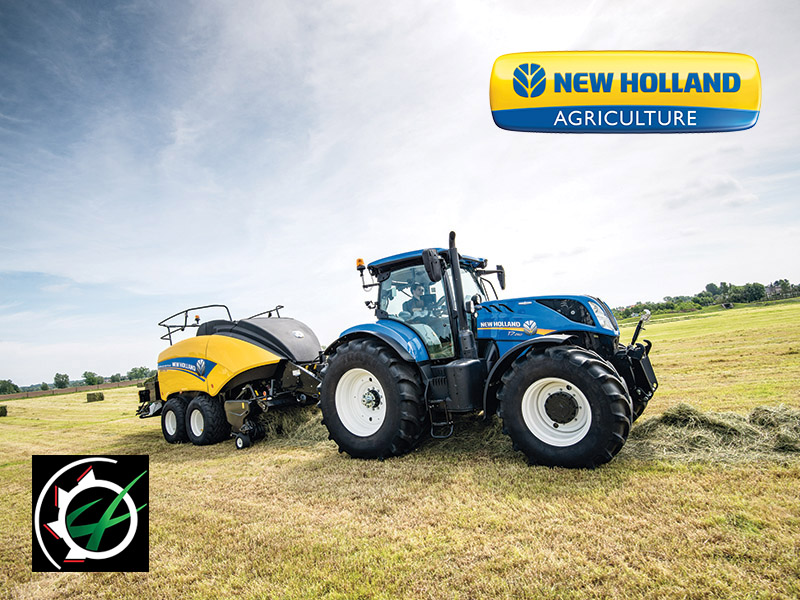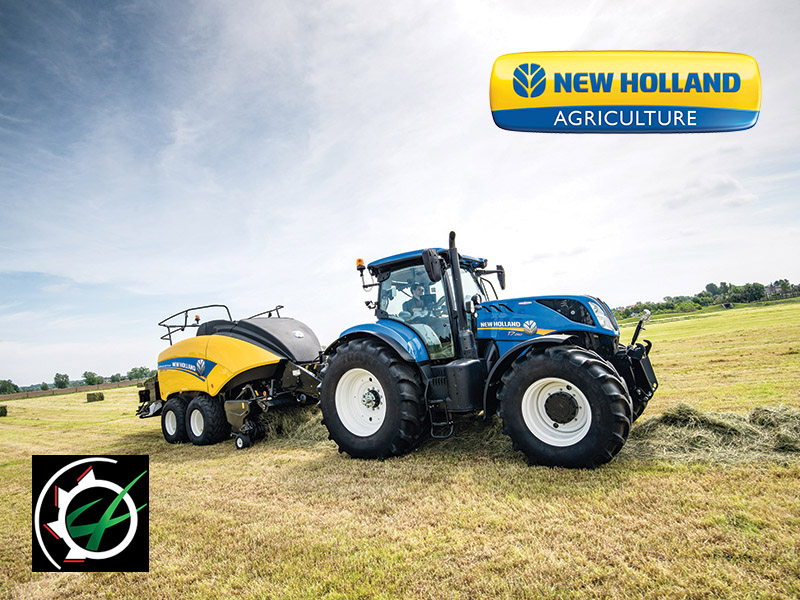 T H WHITE will have an action-packed stand at the show with a large marquee and an impressive line-up of kit from New Holland. 'The Grassmen' will be with us and are expected to take the controls of some of our big kit during the demonstration sessions.
Anyone who has seen The Grassmen's video comparing the New Holland T7 LWB to the Ford TW35 (Grassmen TV on YouTube) focusing on the remarkable changes of the last 30 years, will know how enthusiastic 'Donkey' and Gary are about the latest from New Holland… They have just described the New Holland T7.315 as 'The Magic Carpet' due to the way it drives and its operator comfort. We plan to have a T7.315 kitted out with a triple mower set for The Grassmen to try at the show.
New Holland has teamed up with T H WHITE for GRASSLAND UK and among the other machinery the team has lined up for display and demonstration are the new FR650 Forage Cruiser, BB890 Plus Big Baler, RB125 and RB150 Roll Balers working with a DualCommand T6.175 tractor.
A seven-strong team from New Holland will be on hand to answer your questions and give you VIP access to the latest kit.
Other manufacturers with strong representation on the T H WHITE stand will include Kuhn, Manitou, Quicke and Warwick, giving you the chance to see all the latest and most important grassland machinery all in one place.
GRASSLAND UK 2018 will take place at the Bath & West Showground near Shepton Mallet (use the postcode BA4 6QN), with demonstration plots at adjacent farms. It's on 10 May from 9am to 4pm and tickets are £17 in advance, £20 on the gate.
Now here's how to be in with a chance of getting two tickets, worth £34, for FREE! For a chance to win, like our Facebook page and share your favourite picture of New Holland kit before Monday 7 May. Everyone who does that will be recorded and a winner will be drawn at random – it's that simple! What are you waiting for?
Fight back with ATV TRAC
01 May 2018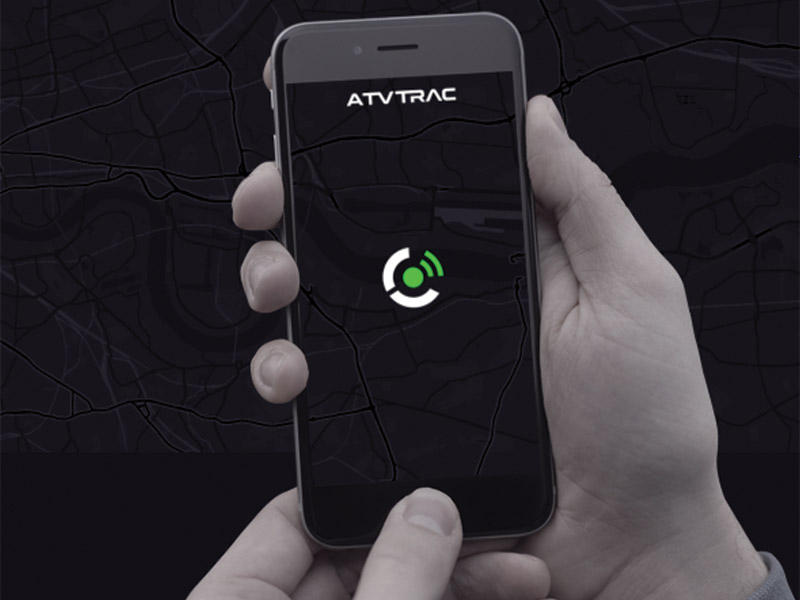 Fighting back against Rural Crime was high on the agenda at a recent annual meeting held by the National Gamekeepers Organisation in association with BASC at Hartpury College.
An insightful presentation by PC Ashley Weller, Cotswold Rural and Environmental Crime Liaison Officer for Gloucestershire Police, highlighted the need to protect farm machinery, ATVs and UTVs from theft.
PC Weller talked the guests through the various security measures, in particular the effectiveness of tracking devices which quickly help the Police locate a stolen machine.
Tim Rochfort from T H WHITE attended and was delighted to support the event by supplying an ATV TRAC tracking device as the main raffle prize – our thanks go to Rupert Archer-Smith of ATV TRAC for his generosity.
Using technology derived from Bike Trac's highly effective motorcycle tracking and recovery system, ATV TRAC is a discreet ATV and asset tracker that monitors the movements of your machinery in real-time via an easily-installed app on your phone or tablet, allowing you to view status and location history 24/7 with notification of unauthorised movements. As well as GPS tracking, the system also incorporates radio frequency detection, which means that the device is Thatcham Category 6 and Category 7 approved. Substantial insurance discounts can be claimed when your kit is fitted with ATV TRAC.
For further information about ATV TRAC please contact Tim Rochfort on 07973 911934 or come and talk to us about it at the Mitsubishi Motors Badminton Horse Trials, 2-6 May.
SEE US AT BADMINTON
01 Apr 2018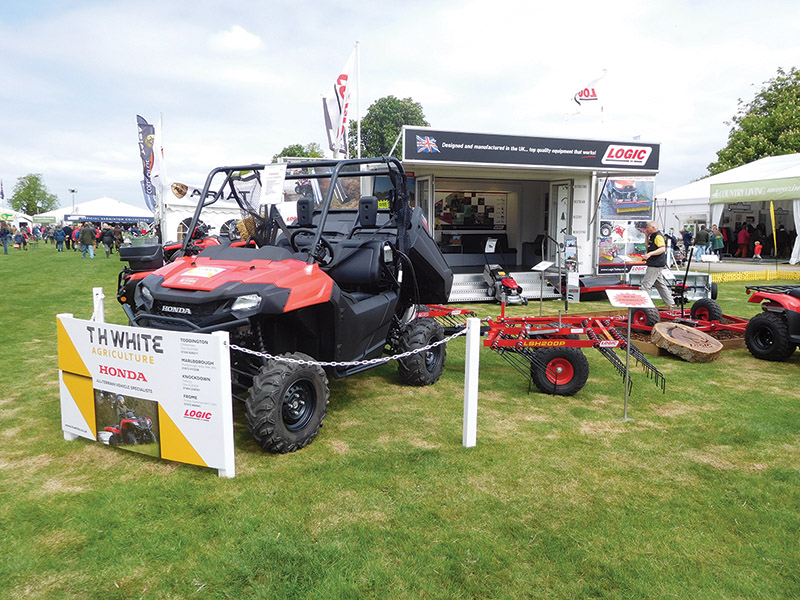 We are excited to be exhibiting again this year at the Mitsubishi Motors Badminton Horse Trials 2018, from 2-6 May (Stand 73). We'll also be supporting the Badminton operations team with Honda ATVs.
Do come and see us – we will have on display the latest range of Honda ATVs as well as Logic ATV and UTV attachments, plus the ever-popular Robomow robotic mowers.
Our ATV specialists Tim Rochfort and Simon Knight will be on hand to discuss your paddock care requirements and representatives from Honda, Logic and Robomow will also be with us.
This is a unique opportunity to see all the products together at the same time and we look forward to welcoming you onto our stand.
RED POWER ON TOUR
01 Apr 2018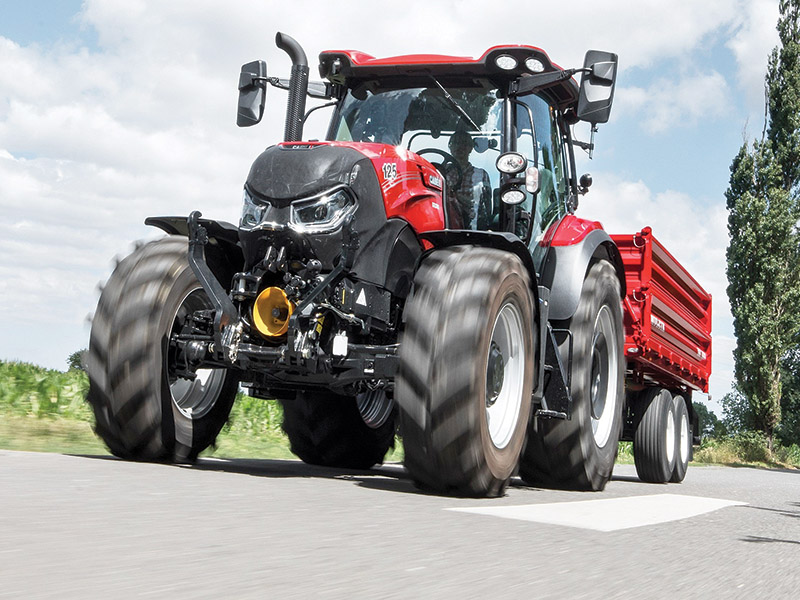 The T H White Pro-Agri team will be hosting a stage of the Case IH Red Power Tour on 26 April, giving you the opportunity to try the new Case IH Maxxum MC ActiveDrive 8.
The event will take place at Compton Manor Estate Ltd, Kings Somborne, Stockbridge, Hants SO20 6QW. We would be delighted if you could join us any time between 11am and 4pm on Thursday 26 April to experience not only the new Maxxum but the range of Case IH tractors. If you would like to attend please RSVP with your name and total number of guests by 19 April to 01373 468710, or email frome_reception@thwhite.co.uk.
OPEN EVENINGS A RESOUNDING SUCCESS
01 Mar 2018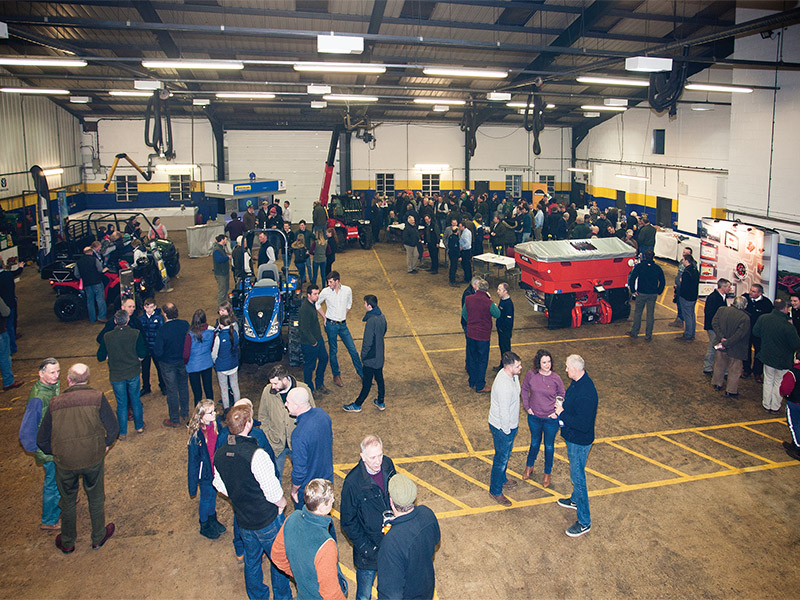 Hundreds of guests gathered at T H WHITE's new premises in Tytherington, Frome, on 6 February, and at the Knockdown branch on 19 February for evenings of fun, plus the chance to see behind the scenes, meet many of our leading manufacturers and enjoy special deals and a prize draw.Hundreds of guests gathered at T H WHITE's new premises in Tytherington, Frome, on 6 February, and at the Knockdown branch on 19 February for evenings of fun, plus the chance to see behind the scenes, meet many of our leading manufacturers and enjoy special deals and a prize draw.
Both events were characterised by a buzz of enthusiasm and chatter filling the workshops as guests browsed the displays whilst being entertained by live music. Among the highlights was a popular ATV display, New Holland PLM and a live demonstration of Robomow automatic mowers. The parts stores were open for business all evening with a steady stream of customers tempted by special offers.
Welcoming guests at Frome, managing director Alex Scott applauded the efforts of all who had contributed to the successful move to the new premises which has given T H WHITE's Somerset operations a base to be proud of. Although trading for 186 years, the company has only operated in Somerset since 1968 when the Auto Mower Engineering Company of Norton St. Philip was purchased. A move was made to Vallis Road in Frome during 1975, but ever since 1998 plans have been underway to develop a purpose-built site. Much of the planning was guided by former managing director David Scott, whose wife Letitia (Alex's mother) unveiled a plaque to mark the official opening.
At Knockdown, Alex reflected on the fact that the business had already been trading at the site for 30 years, and before that at nearby Sherston. Many of the guests and their families had been T H WHITE customers throughout that time and it was wonderful to see them gathered at the event – their support was truly appreciated.
Voluntary contributions for entering the raffles at both branches raised a stunning £1,410.86, all of which will go to local air ambulance charities. Among the prize winners at Frome were Mr Bendall of Manor Farm walking away with a brand new Robomow and Tim Cox, with a ThermalArc Welder. At the Knockdown raffle similar prizes were donated by Robomow, New Holland, Sparex, Kuhn, Gallagher and Manitou, the first prize of a Robomow going to Max Mitchell and second prize of Goodwood Festival of Speed tickets being won by Mike Cullimore.
Both events were a great success and we hope to repeat them at a future date.
BITHELLS HOOKED WITH PALFINGER!
01 Mar 2018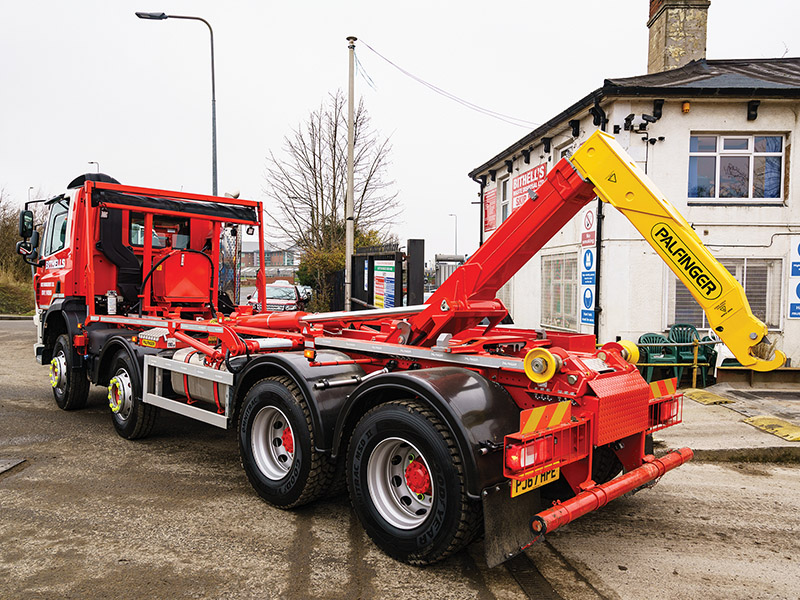 Family-owned Bithells Waste Management Ltd – which has been operating in Wigan for more than 50 years – has taken delivery of two brand new DAF CF 400s from Lancashire DAF, both fitted with Palfinger T22 Hookloaders supplied and installed by UK Palfinger importer T H WHITE. Family-owned Bithells Waste Management Ltd – which has been operating in Wigan for more than 50 years – has taken delivery of two brand new DAF CF 400s from Lancashire DAF, both fitted with Palfinger T22 Hookloaders supplied and installed by UK Palfinger importer T H WHITE.
The Palfinger Telescopic T22 Hook loaders, equipped with easy to operate Pro-Active Drive control system (PAD), feature a unique hook arrangement which is perfect for handling a wide variety of containers, offering a low transport height and great lifting capacity. The dual cylinder T22 provides increased tipping capacity and soft-stop landing, reducing shock or damage to both truck and bin.
Transport Manager Emma Bithell said: "T H WHITE has been great to work with. The team there welcomed us over to their workshop to observe the assembly of the new trucks. In particular, Hook and Skip Area Sales Manager Steven Bretherton has kept us informed throughout the design and build stages – his attention to detail is second to none.
"Steven, together with National Sales Manager Tex Allen and the crew at T H WHITE have been extremely professional throughout and a pleasure to deal with. Like us, they clearly share a passion for their company and doing the best for their customers."
Steven Bretherton added: "At T H WHITE we take pride in providing the best service and products available to our customers. I personally look forward to working with the Bithells Waste Management team again in the future and I'm delighted that they have found their experience with T H WHITE to be pleasant and professional."
AGRICULTURAL OPEN EVENINGS
01 Feb 2018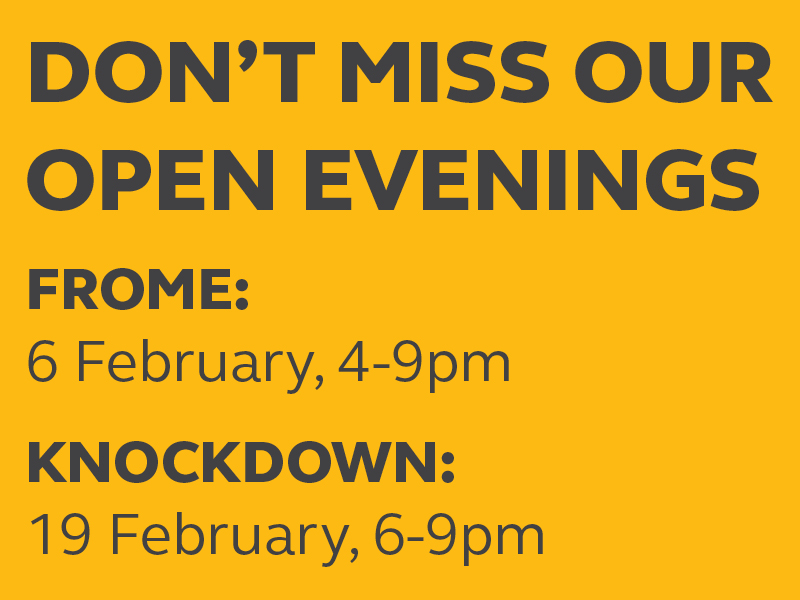 Don't forget that we will be hosting informal open evenings at our branches in Frome (6 Feb, 4-9pm) and Knockdown (19 Feb, 6-9pm).
These fun events will feature a hog roast, refreshments, bar and live music, as well as giving you a glimpse of what we do behind the scenes. You will be able to get hands-on with our machinery and meet supplier representatives from New Holland, Kuhn, Hardi, Väderstad, Kawasaki, DeLaval, AirWash Plus, Manitou, McConnel, Opico, Warwick, Pöttinger and Honda. At the Frome event we will also have representatives from Case IH, Hi-Spec and Bauer.
The evenings are free to attend and there will be a raffle with all proceeds going to local air ambulance charities.
If you would like to attend, just email as soon as possible with your name and total number of guests to: Frome_reception@thwhite.co.uk (Frome), or vmw@thwhite.co.uk (Knockdown).
MAKE MORE OF YOUR MULE
01 Feb 2018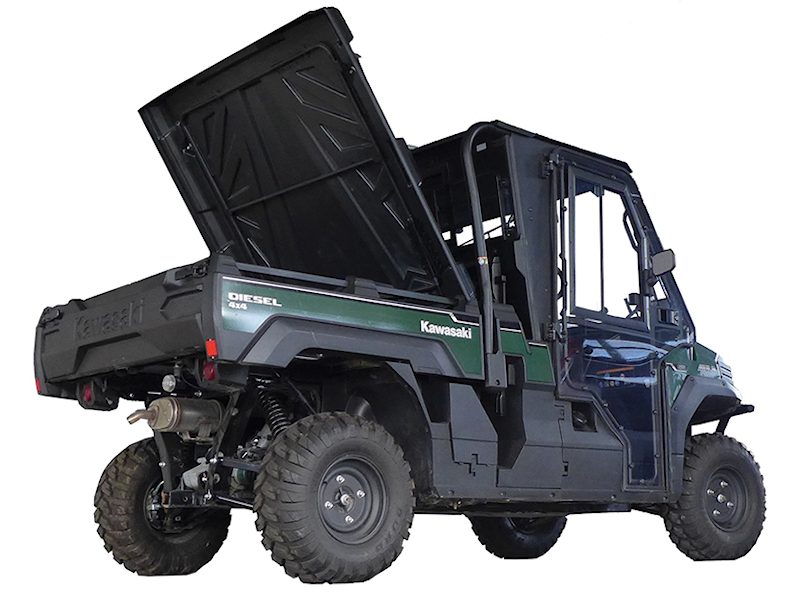 Two useful new rear cargo bed accessories will be available for the Kawasaki MULE PRO DX in March – a lockable canopy and a moulded flip-up tonneau cover.
The rear canopy fits on easily and can be purchased with an optional glass or ventilated steel rear hatch. The rear bed can still be tilted with the canopy fitted. The rear moulded tonneau cover, lifts up and keeps things dry and secure with lockable latches in the closed position. Both take very little time to fit, providing cover for livestock and important equipment. For price information or to place an order please contact one of our Agricultural or Groundcare branches.