RAPID TRASH FLOW ON COTSWOLD BRASH
01 Aug 2018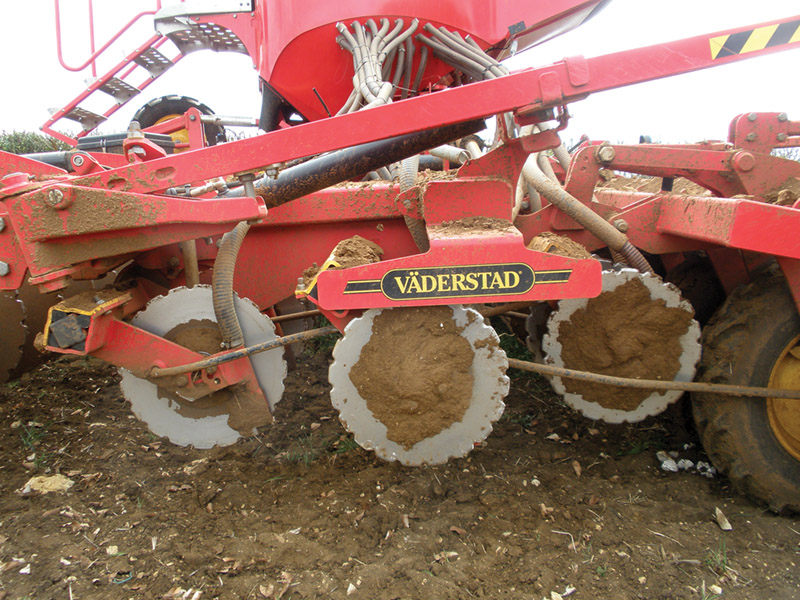 The improved residue flow from an 8m Vaderstad Rapid fitted with system aggressive discs has enabled a Cotswold Estate to sow in wetter, trashier soil conditions.
Six years ago, Ewe Pens Farm on the Bathurst Estate – operated by Cirencester Park Farms Ltd – made a policy decision to switch its machinery to a single high horsepower tractor, a big seed drill and a wider cultivator.
Farms manager Stuart Bachelor explains the reasoning: "There had been a big increase in the arable land farmed – we'd taken on another 300ha and needed the power and width of implements that would enable us to increase output, speed our work and reduce costs, as well as providing capacity for further expansion."
His ongoing challenge is to maximise output from the free-draining Cotswold brash over limestone, which can vary in depth from 15cm to 45cm on some of the 'better' ground.
Maximum yield in thin soil
"Our objective is to get as much as we can from our limited soil resources and make them more resilient to spring drought. The soil offers easy working but if we don't get rain in April and May yields can be disastrous," Stuart explains. "Due to our altitude – 750ft above sea level – we're colder and later in the spring. The thinness of the soil means that we need to achieve a well-established crop and get the roots down.
"Our target is to harvest the oilseed rape by the end of August and the wheat during the first fortnight in October; I believe in the maxim that 'a seed well sown is half grown' and it will provide competition against blackgrass and other weeds.
"We are highly aware of the need to increase organic matter and only bale straw in front of oilseed rape, the rest is chopped off the back of the combine and incorporated. And we import a lot of sewage sludge, FYM and digestate, which has also enabled us to reduce our use of triple super phosphate."
The shallow soil has also been the primary factor behind changes in cropping. For the past four years the arable ground has been farmed in three rotations. Growing conserved fodder for a neighbouring dairy farm influences one programme, the land down to a winter wheat, maize (141ha), winter wheat, oilseed rape cycle. On the deeper brash, spring beans replace the maize, while on the thinner soils winter wheat is followed by two barley crops (either winter or spring barley), before oilseed rape
"We grow oilseed rape one in four years as, although it has a high gross margin, I think growing it too often would a only offer a short term benefit as there are the potential problems of black grass and slugs," says Stuart. "The spring crops help us to keep on top of black grass but on the worst fields we are also meeting points requirements for the basic payment scheme using fallow and trialling a two to four-year herbal ley (grasses/clovers/sainfoin)."
'Knock the slugs about'
A variety of techniques are used to prepare the land for sowing. Oilseed rape is sown direct into stubble with a Vaderstad TopDown cultivator and BioDrill combination. Winter wheat land is cultivated and, if needed to create a suitable seedbed and to 'knock slugs about', a pass is made with a 6m Vaderstad NZA spring tine.
"We try to do the majority of spring crop ploughing in September," adds Stuart. "Some over-wintered stubbles are cultivated in February/March." On the maize land FYM is ploughed in with a 6-furrow Kuhn before a pass with a 6m Vaderstad Rexius Twin and drilling by a contractor.
Until 2012 the primary workload was carried out with 300hp and 350hp tractors hired in from mid-August to mid-September so that heavy cultivation and the oilseed rape establishment could be done at the same time. The restructuring of the machinery fleet brought about by the additional land saw an end to the hiring-in policy and a 320hp tractor was purchased to do all the primary cultivations and sowing with a wider, 5m TopDown and a bigger, 8m Vaderstad Rapid fitted with System Aggressive discs.
"I'd had experience of the Rapid and I think the depth control and the layout of the working elements, two rows of cultivations discs, a levelling board and two banks of drilling coulters, maintains the seed depth better than tines which can have a lot of movement. It also produces more uniform establishment. The discs have the whole weight of the drill on top of them – we drill at 10 to 16kph, depending on the stone content."
Third bank of coulter discs
But the Rapid was not faultless. "In really wet conditions it blocked up between the two rows of coulter discs," Mr Batchelor says. "That issue was addressed at the beginning of last year when the drill was replaced with another 8m Rapid, specified with the optional tool layout of two rows of system aggressive cultivating discs and a third bank of coulter discs in place of the levelling board. It still drills at 12cm as there are the same number of discs but as they are spread out more there is greater room for trash flow."
The drill is also fitted with the E-Services system, which is used for variable rate seeding, rather than variable rate fertiliser, to compensate for variations in soil type and depth. "Courtyard Agriculture has scanned and zoned all the arable fields into different soil types and zones are sampled every three years. Wheat and barley seed rates vary between 300 – 450 seeds/m2."
Although Cirencester Park Farms Ltd has used the modified Rapid for only one autumn Mr Bachelor believes the investment has been worth it. "We drilled wheat in November with no problems and by the end of February establishment looked good," he says. At the time of writing it was too early to comment on yield but the potential is similar to the previous drill as the principle is the same, but with the flexibility to cope with wetter, trashier conditions.
Enter our Harvest Photography Competition
01 Aug 2018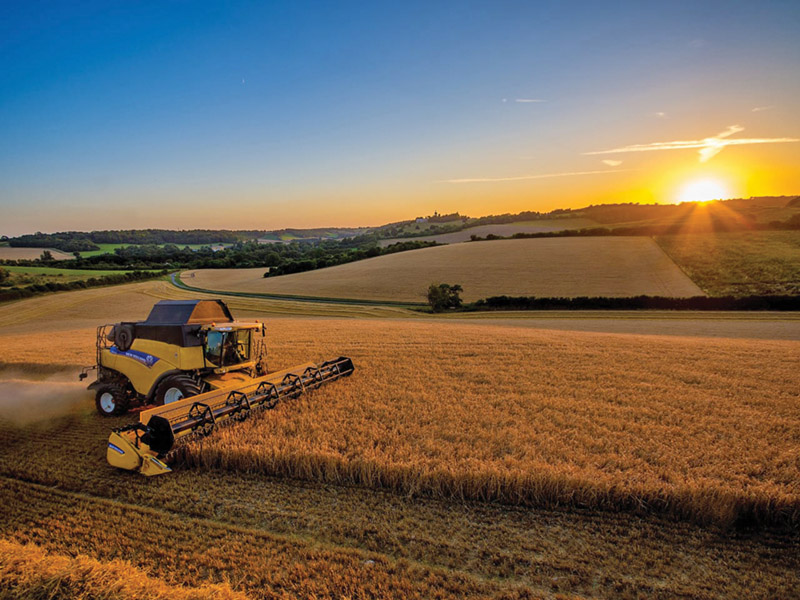 Celebrate a challenging harvest with us by entering our Harvest Photography Competition!
Post your picture on our Facebook page (www.facebook.com/THWAgriculture) with an accompanying comment if you wish, and we'll pick a winner at the end of the season. Here's one already posted by Michael Szollosi – the standard will be high so good luck!
Ski Centre Chooses Honda and Logic!
01 Aug 2018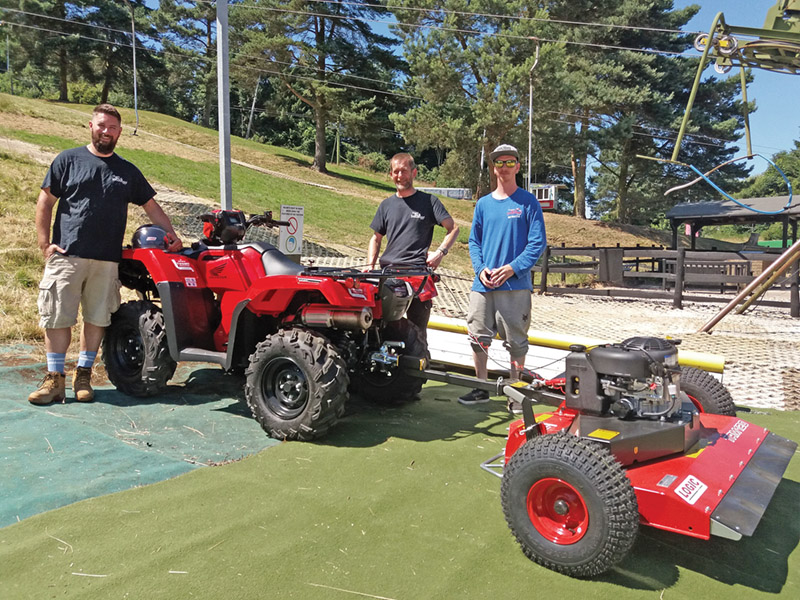 Tim Rochfort from our Toddington branch was recently contacted by Elliot Gregory at the Gloucester Ski and Snowboard Centre – a premier dry ski slope, renowned for the pleasure it has given to skiers of all abilities over the last forty years.
Elliot's request was to replace his unreliable old quad bike with something more professional which he could also use to cut and manage the grass surrounding the dry ski slope, a job he had been doing by hand with a Flymo!
Tim took two Honda ATV models for Elliot to try. After the 'hands-on' experience he went for a new Honda TRX500FM6 Foreman which offers the grip and power he needs, light, power steering and outstanding reliability. To meet Elliot's mowing challenge a new Logic TRM120 rotary mower was also delivered. This is towed behind the Honda and will help to keep the grass under control.
The Honda  plays an important daily role providing transport with a trailer up and down the slopes to carry out essential maintenance. Health and Safety is taken very and all the users have arranged to attend an ATV Operator training course, also purchasing ATV safety helmets!
Elliot has been delighted so far with performance of his new ATV and mower and is also pleased with the finish and improved look of the Ski Centre. It's another example of the many applications in which Honda ATVs excel, combining with Logic accessories to deliver a durable and reliable work package.
FIRST NEW BAUER SEPARATOR IN UK AIDS ORGANIC CYCLE
01 Aug 2018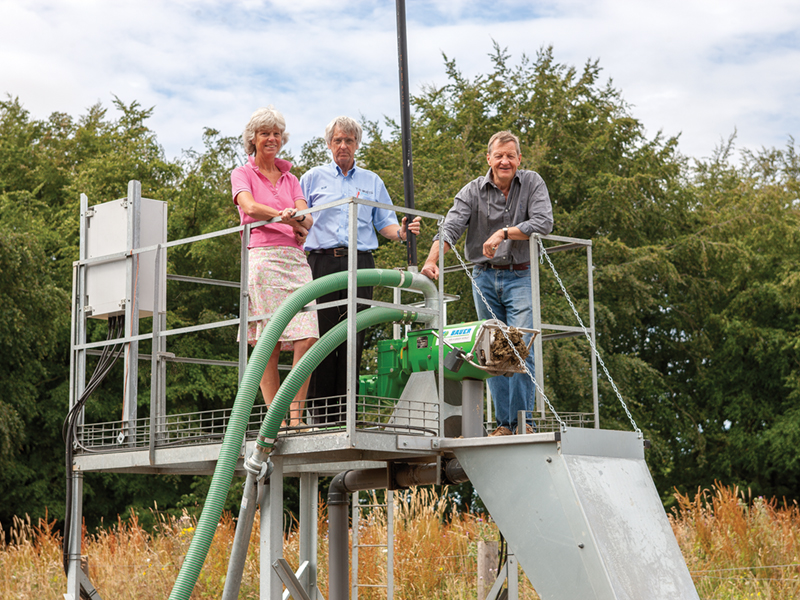 'Organic' has become a desperately over-used term in agriculture. While the move away from chemical fertilizers and pest control is to be applauded and has encouraged a burgeoning market, it's not until you experience a truly organic farm that you realise just how different  things can be. 
Manor Farm at Chedworth, between Cirencester and Cheltenham, shows what it really means to go organic. Formerly a mixed arable and dairy farm,  it is now a purely dairy farm with a 300-strong milking herd. Since making the decision to go organic in 2008, owners Jeannie and Tim Hamilton have worked with farm manager Robert Richmond to establish a sustainable environment for wildlife and farming in which the application of soil science and the natural treatment of waste are key factors.
It wasn't always like this, as Jeannie explains: "When it was a mixed farm we had Dairy Shorthorn and British Friesian cows, 130 in milk, and breeding replacement heifers. We operated a low input, low output system with autumn block calving. Now we have 300 cows and block spring calving and all the cows live outside all year round, outwintered on straw pads.
"Robert took over as manager in 2004 and, apart from the transition to organic status in 2008, he has demonstrated his passion for growing good grass, which adds to the health of the soil as well as contributing to the welfare of the cows. In 2011 he undertook a Nuffield Scholarship exploring carbon sequestration on soils.
"What you see on the farm today is the result of Robert's efforts. We have some 550 acres of grass, deep rooting herbal leys and fodder crops, growing on the free draining Cotswold brash soil, which has been improved with extensive composting."
In 2016 a former grain store was converted for the installation of a new milking parlour, and at the same time an aerobic and reed-based slurry handling system was put in. The objective was to process waste naturally to end up with water sufficiently clean to use for irrigation and, potentially, even washing down in the parlour.
"Early results have been encouraging," adds Jeannie, "but earlier this year we decided to install a slurry separator to reduce the amount of fibre in the slurry, thus to provide a more efficient transfer of dirty water to the beginning of the aerobic system."
Enter Bob Gallop, T H WHITE's slurry specialist: "When Robert Richmond asked me to look at the intended application at Manor Farm, the timing could not have been better," he says.  "A new Bauer compact slurry separator – the S300 – had been premièred at last year's Agritechnica exhibition in Hanover and I knew it would be perfect for Manor Farm."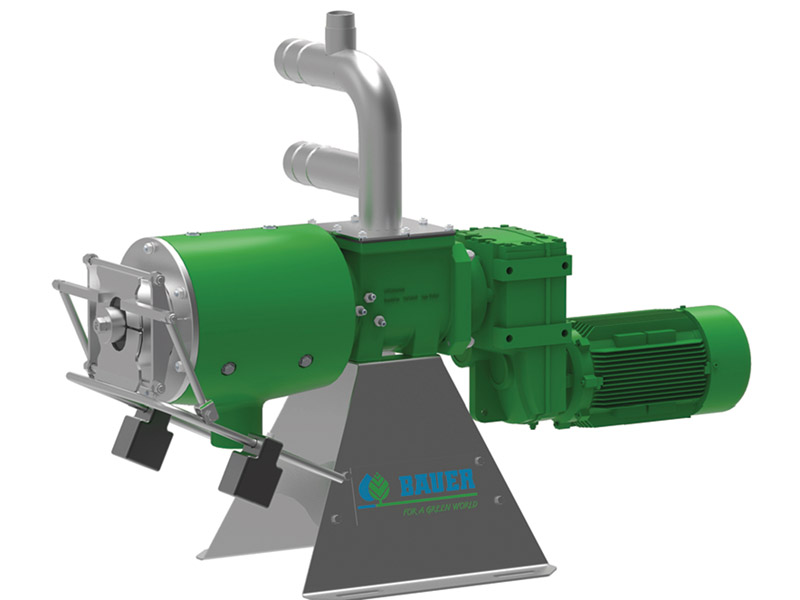 The Bauer S300 is a new design of press-screw separator which is able to produce a higher dry matter content than its predecessor, with a similar throughput of up to 16m3 per hour. Hard-wearing components give it a long life and it benefits from low operating costs and an optimum cost/performance ratio.
As the S300 is new and worldwide interest was high, Bob had to pull some hefty strings to obtain the unit, but he succeeded in getting the first one imported to the UK and work to install it on a purpose-built platform began in March. The slurry is drawn from a holding pit and passed through the separator which takes out a high proportion of the solids, returning the liquid residue to the reed beds.
"It's early days yet," says Jeannie, "but we believe the separator is already having a significant effect. We need to carry out chemical tests to confirm the results but they are looking extremely good. The dry matter that the separator extracts really is dry and odour-free and we add it to our compost which all goes back on the land."
If you have a slurry challenge that could benefit from the advice of a specialist, call Bob Gallop on 07831 883734, or email him, rg@thwhite.co.uk.
Avebury ploughing match
01 Aug 2018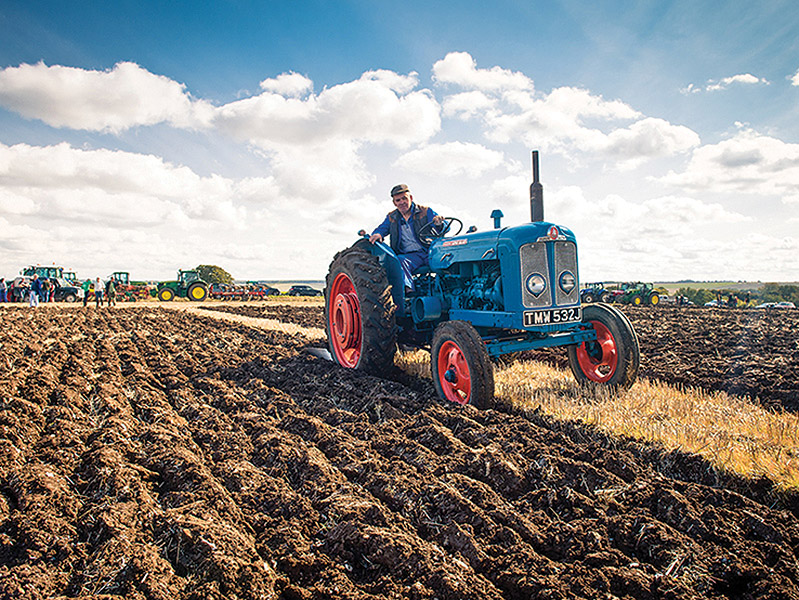 Once again the Avebury & District Ploughing Association will be holding its annual ploughing match in September.
The event has a history that stretches back more than a century  and traditionally sees the very best local ploughmen pitted against each other. Although the venue has yet to be decided, the date has been set for Saturday 29 September.
There will be classes for vintage, conventional and reversible ploughing open to ploughmen in regular full time employment within a 15-mile catchment area of from Avebury, as well as trade classes open to employees of agricultural engineering firms in North Wiltshire.
More details of the event and venue, as well as entry forms will shortly be posted at www.aveburyploughingassociation.co.uk.
Productive drilling with Vaderstad Tempo precision seeder
10 Jul 2018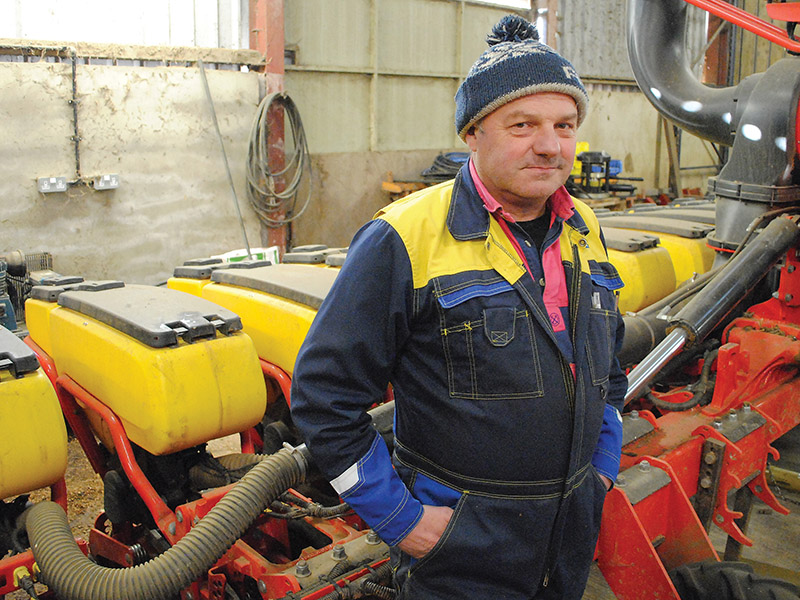 A Gloucestershire farming and contracting business has changed to a Vaderstad Tempo precision seeder from a shoe to disc coulter type due to its consistency of planting depth.
Pither Agriculture Ltd farms in the Vale of Gloucester and the Cotswold Edge and the difference in temperature between the two areas plays an important role in the establishment programme of the company's 600 acres of autumn-sown oilseed rape.
"At that time of year there is a 2deg difference between the high ground and the Vale," says Derek Pither, "and as it gets later in the season the temperature drops faster so we need to plant about 10 days earlier." Oilseed rape is one of the break crops grown by the company on its 5,000 acres spread across a 10-mile radius from its base at Droys Court, Little Witcombe.
"We're ring-fenced in Gloucestershire," laughs Mr Pither. He explains that the acreage is split 50:50 between combinable crops and grassland. Winter wheat (1,500 acres) for the 2018 harvest, and 'small amounts' of winter and spring barley. There's also maize (60 acres), which, together with 300 acres of 3-4 year leys and 200 acres of meadow pasture, provide silage and hay for a 1,400 head store-to-beef herd, plus 1,500 acres of hill grazing.
CONTRACTING OPERATION
A contracting operation accounts for 20 per cent of the business, which helps to justify the purchase of machinery such as the firm's 6m power harrows, self-propelled forage harvesters and combine harvesters. There are also some 650 acres of maize drilled under contract, which, together with the oilseed rape acreage, validated the purchase of a new precision seeder last year, a 6m mounted Väderstad 12-row Tempo.
"We used to establish all the oilseed rape with our 8m Väderstad Rapid and the maize with a shoe-type coulter precision seeder," Mr Pither explains. "We wanted to change the seeder and trialled a number of manufacturers and models last autumn. From the demonstration we could see the benefits of the Tempo's discs, which cut rather than bulldoze a slot, and so allowed a more consistent planting depth, particularly in our varied soil types.
"I have considerable experience of Vaderstad equipment – I've run Rapids for the past 15 years and I liked the Tempo's build quality. It's heavy as it incorporates a lot of high-grade steel and we run it on a 200hp long wheel-base tractor with big wheels. I'm also impressed by the research and development that has gone into the drill."
Mr Pither specified the Vaderstad Tempo precision seeder with micro-fertiliser/slug pellet applicators and wheel mark eradicators, and T H WHITE's Toddington branch delivered the drill in time for the 2017 sowing campaign. It established all the maize and, due to the temperature difference between the Vale and the Cotswolds, the bulk of the autumn oilseed rape. Ideally drilling takes place throughout August, with the Tempo establishing the Vale ground at a 51cm (20ins) spacing.
However, towards the end of the month the high ground is drilled with the Rapid at a standard 12.5cm spacing. "We need to plant 10 days earlier on the brash and we don't want to use the wide spacing as we won't get the canopy coverage before winter with the added potential problem of pigeons coming in," Mr Pither explains. "And the later it gets the more critical it becomes as the temperature drops faster."
8 OR 12 ROW FLEXIBILITY
Last spring the Tempo was configured as an 8-row when drilling the maize at a 76cm (30ins) spacing, but for this season the drill will be in its 12-row format for both the maize and the oilseed rape. "The ability to use the drill as either an 8 or 12-row definitely gives us flexibility.
"But it does take a day to reconfigure the drill and I don't see the benefit of going to the wider row width; I can't see a problem with 51cm or a disadvantage, the crop has still got a reasonable spacing. A 25 acre trial in the Vale in 2016 showed that there was no detriment in oilseed rape yield by going wide – the additional space gave the plants room to branch and compete.
"The Tempo is more expensive but we can drill faster, around 11kph. Although we don't push it, we aim for 100 acres per day in oilseed rape, and there is more even establishment due to the consistency of planting depth. Also, we can apply micro-fertilisers or slug pellets when drilling. If necessary, the E-Control system gives us the ability to vary the seed rate from the cab. So far, we've drilled 700 acres of maize and 500 acres of oilseed rape. We'll know more about the Tempo after harvest, but overall I'm very impressed with the drill."
To find out more about Väderstad seeders or arrange a demo contact any T H WHITE Agricultural branch. Contact us now to obtain the best order terms before 31 July.
Electric start for Logic paddock mower
10 Jul 2018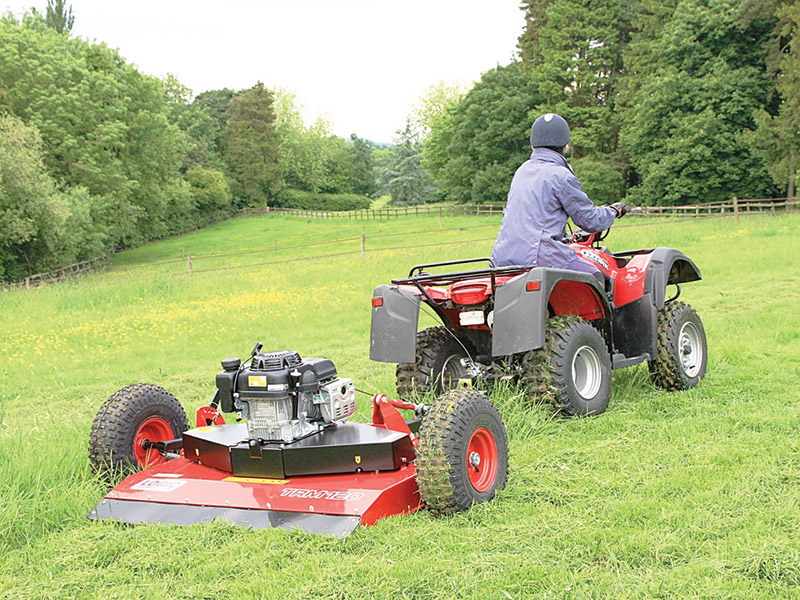 A new addition to the Logic family of rotary mowers is the Logic TRM120B13FWES – with easy electric start!
At the simple turn of a key the 12.5hp Briggs and Stratton Engine will burst into life without any of the effort required to pull a cord, although it's still there for back-up.
The TRM range is outstanding at managing larger areas of grass quickly and efficiently at speeds up to 10kph. Little and often is the way to tackle longer grass with this machine and within no time see the difference it can make towards achieving a tidier paddock.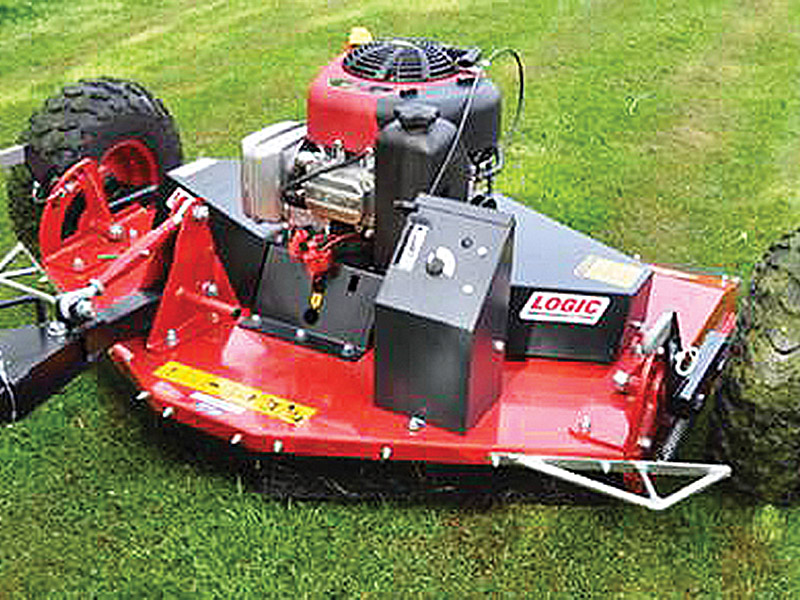 There are five height settings, an adjustable towbar for offset and hitch height, remote throttle control and an all-important safety cut -out, all enhanced by outstanding Logic build quality.
For more information about the Logic TRM 1.2 and 1.5m, starting from £2,895.00 plus vat, please contact T H WHITE Logic specialists, Tim Rochfort on 07973 911934, or Simon Knight on 07860 712963.
Kawasaki Mule Pro MX
10 Jul 2018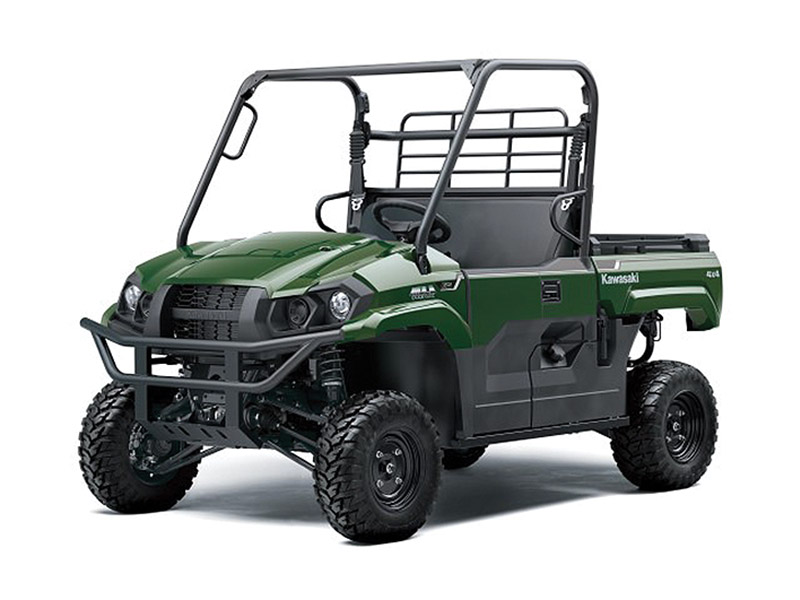 This all-new smaller Kawasaki Mule Pro MX is powered by a torquey 700cc economical, fuel injected petrol engine, offering quiet, smooth and powerful performance.
Size-wise the Mule PRO-MX offers the ideal balance between compact and full size UTVs. Measuring 2.795m long by 1.525m wide, it will fit neatly into more restricted areas around the yard, golf course, shoot, dairy or farm. Key features include a contoured bench seat, power steering, two and four wheel drive with difflock, towbar, independent suspension and disc brakes. Carrying and towing capacity is impressive at 317kg and 680kg respectively.
The petrol tank holds 36ltrs and the dashboard has all the important information to hand, with full lighting and an adjustable steering wheel.
A range of cab options and accessories will be available shortly.
The Mule Pro MX is due for delivery soon and T H WHITE has ordered demonstrators for you to try. So before you consider another brand of petrol UTV why not book a demo of the new PRO MX. Contact either one of our Groundcare specialists on 01454 238181, or for Agriculture Simon Knight on 07860 512763, or Tim Rochfort on 07973 911934.